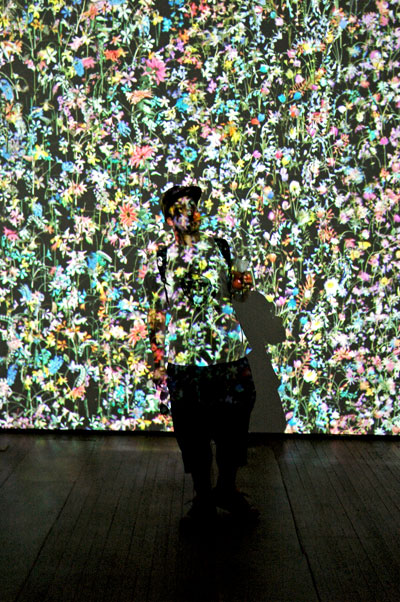 lovely shirt, Noah, but don't try to eat it
I found Noah Lyon in the middle of the largest of the pieces in Jennifer Steinkamp's show, "Daisy Bell", last Sunday when Barry and I visited Lehmann Maupin's beautiful Lower East Side space. Noah was covered with sections of Steinkamps' gently-waving projection of flowers as they paraded down the far wall of the darkened gallery on a black ground.
My thoughts about the show itself while I was in the gallery were something on the order of, "yes, it's beautiful, but (especially because of the extravagant high-tech element) so what?" I didn't actually read the press release until much later (in fact only after looking on my computer screen at the picture above) and then it came together. I have to remind myself that sometimes you shouldn't leave a show without looking at the "instructions". Here's an excerpt from the gallery website, edited for some typos:

The title, Daisy Bell, refers to a particular moment in the history of science and culture: when in 1962, Bell Labs used the IBM 704 to synthesize the popular 19th- Century English song of the same name. The song was also used in the climactic scene of the epic film 2001: A Space Odyssey in which the supercomputer HAL 9000 begins to sing Daisy, Daisy as his consciousness is degraded.

Steinkamp's Daisy Bell series is comprised of a variety of poisonous flowers that appear to cascade down the gallery walls.

Much as Bell Lab's Daisy Bell consisted of a human application reinterpreting nature, Steinkamp reprises the idea, and defines this new series of artwork by its relationship to human innovations.
The gallery's
site
for this exhibition has more images, including a video of another piece being shown on Chrystie Street.