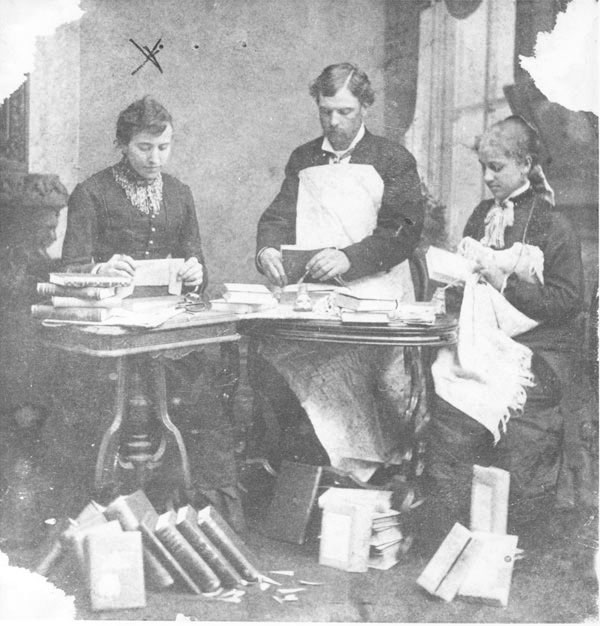 "Del Baldwin, Tence Massey and Anna Pope are preparing library books for circulation."
Apparently the first time around it was such a great success, and everybody had such a good time, that this Saturday Friends of the Greenpoint Library are repeating an event they held at the Library last September.
"Greenpoint 100" is a benefit art show of works donated by artists living or working in Greenpoint. One hundred pieces, in almost every medium, will be available for the astoundingly modest sum of $25. We're told that the money and the enthusiasm raised a year ago went toward acquiring new materials for this branch of the Brooklyn Public Library and toward creating a safer, more inviting library environment for the vibrant community it serves.
I'll say again what I said last year, when we were asked to help with the event: We love Greenpoint, and we love libraries. This time I can add that the work we saw in 2007 was very impressive. Oh, and I still love this photograph.
Details:

The Greenpoint 100: Friends of the Greenpoint Library Artists'
Benefit

Saturday October 4, 2008
11:00 am to 2:30 pm

at the Greenpoint Library
107 Norman Ave. at Leonard St.
Brooklyn, NY 11222

for more information call the library at 718-349-8504 or email: [email protected]
[1878 image by unknown photographer, along with supplied caption, from wichitaphotos.org]