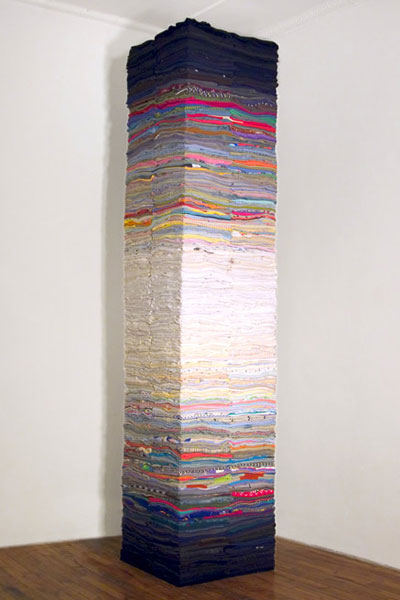 Derick Melander Flesh of My Flesh 2008 fabric 2' x 2' x 10' [installation view]
We won't be in Miami this week, although we're finding more and more reasons to regret the decision. The news that a Derick Melander sculpture will be prominently represented at one of the fairs is only the latest. The artist has created a new piece for Richmond's ADA Gallery and it will be exhibited as a Special Project at SCOPE from December 3rd through the 7th.
It's a tall column made up of carefully folded and stacked second-hand clothing. Each layer is categorized by its relative color value, with the darkest placed at the bottom and the top of the stack, each transitioning to white. The title, "Flesh of My Flesh", is pulled from the script exposed at the fold of a found t-shirt located somewhere in the center.
I've been a big fan of Melander's work for years, and while I haven't actually seen this new piece except in the form of the photo above, it looks pretty spectacular from here.
[image from the artist]