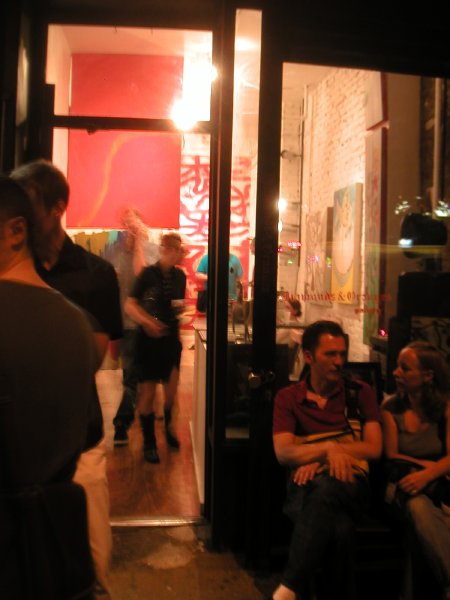 last night there was [sic] Diamonds and Oranges spilling onto 1st Avenue
Yay! A new space has arrived in a neighborhood with a rich history in the visual arts, but which has been inexplicably gallery-challenged for years. Diamonds and Oranges first opened a door on 1st Avenue, between 9th and 10th Streets, only a few weeks ago. According to the artist/gallerist, Lyon Smith, the diamonds are the art and the oranges are a reference to the stock of the tiny bodega which previously occupied the small storefront.
The current show, which includes paintings by Smith, drawings and sculpture by Derick Melander and collages by Dug Rupp, opened just last night. The work is definitely worth a detour, and on the basis of what we found we both expect to be returning for every show.
In addition, all of this couldn't happen to nicer people, and here I'm talking about the residents of the neighborhood, the artists [well, I actually haven't met Rupp yet] and the good folks who will be stepping by this very promising room in the future.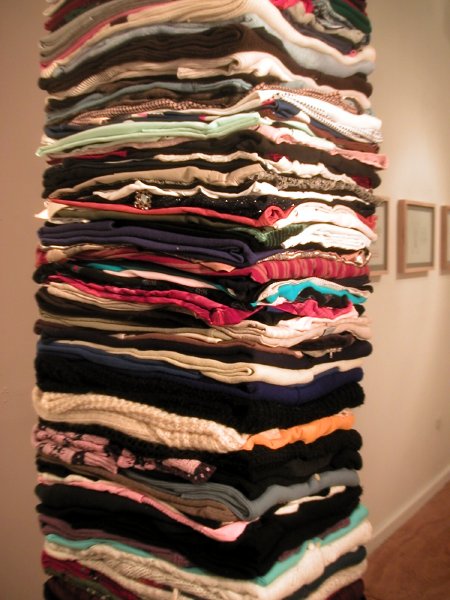 Derick Melander Where Do I Stop, Where Do You Begin (Female Stack) 2003 11' x 17" x 12" women's clothing [detail of installation]
In a statement which accompanies the show Melander says that he gathers, categorizes and folds "exorbitant amounts of ordinary clothing" to create large geometric configurations. And in lines found on his site he specifically describes the piece above:
The stacks extend from floor to ceiling and can be created for any size room. Clothing that is worn on top of other layers is placed at the bottom of the stacks, while clothing that is worn directly against the skin is placed at the top. In this way, the clothing relates to the way we layer the clothing we wear.

Once the clothing has been categorized, I allow patterns and texture combinations to occur by chance.
Don't miss his small maquette, assembled from Barbie and Ken's wardrobe, on the counter near the door. The full-size sculpture will be included in a show in New Jersey in November.
Barry has a post which includes an image of Melander's poetic sculpture, Wedge, which is also installed in this show.