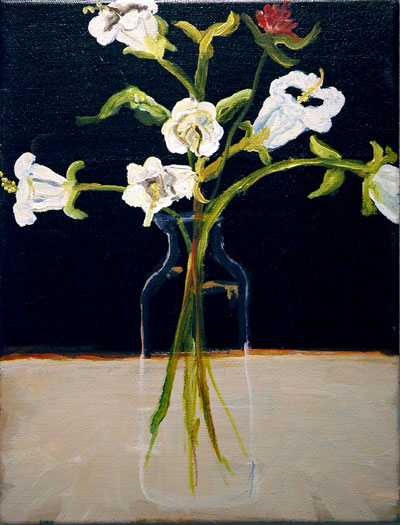 Maureen Cavanaugh Black Flowers 2008 oil on canvas 9" x 12"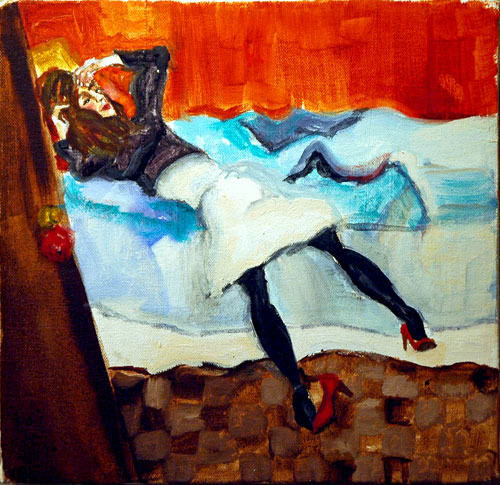 Maureen Cavanaugh Old Room 2008 oil on canvas 10" x 10"
I liked these paintings when I first looked at them, and I find they've only grown more beautiful each time I've returned to them (in photos). Maureen Cavanaugh's solo show at 31 Grand, "Stay With Me", which closed one week ago, was terrific, but unfortunately it proved to be the final regularly-scheduled exhibition in the gallery's space on Ludlow Street.
And then last night we were excited to be able to drop by the gallery for one last blow-out show, "Death Is Not The End". It was a one-night only thing, a retrospective group exhibition of artists who had made appearances in 31 Grand's spaces in Williamsburg and Manhattan over the nine years of its very full life.
The strength of this last brilliant flare of an installation, and the crowd which poured into the space one last time last night, should attest to what I read as prophecy in its title: It's not over. I know nothing more about the future of the art world than anyone else, and less than many, but I expect Heather Stephens and Megan Bush will be back, either together or separately; the love and the respect both have earned for the work they have done over the past decade should foretoken as much, and more.
The artists included in the show last night were:
Adam Stennett, Alessandra Exposito, Eric White, Barnaby Whitfield, Carol "Riot" Kane, Fanny Bostrom, Randy Polumbo, Francesca Lo Russo, Helen Garber, Mike Cockrill, Jade Dylan, Jason Clay Lewis, Jason Cole Mager, Jason Weatherspoon, Jeff Wyckoff, Joel Adas, Jon Elliott, Karen Heagle, Kristen Schiele, Kyle Simon, Lauren Gibbes, Magalie Guérin, Maureen Cavanaugh, Megan Leborious, Michael Anderson, Michael Cambre, Michael Pope, MTAA/Michael Sarff, Nelson Loskamp/Electric Chaircut, Orly Cogan, Paul Brainard, Rebecca Chamberlain, Sean McDevitt, Spencer Tunnick, Tim Wilson, Tom Sanford, Ursula Brookbank and Claudine Anrather