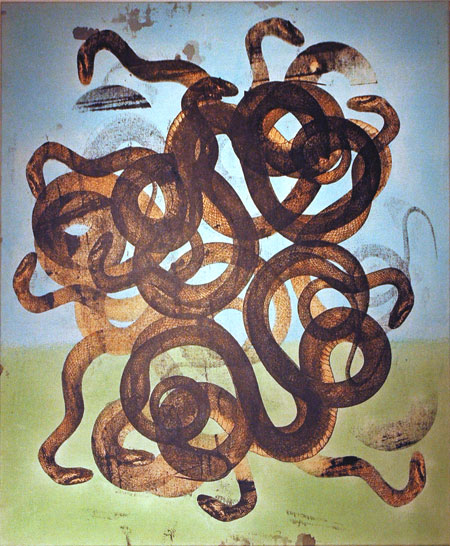 Philip Taaffe Calligraphic Study 1997-2008 mixed media on canvas 35.5" x 30.25"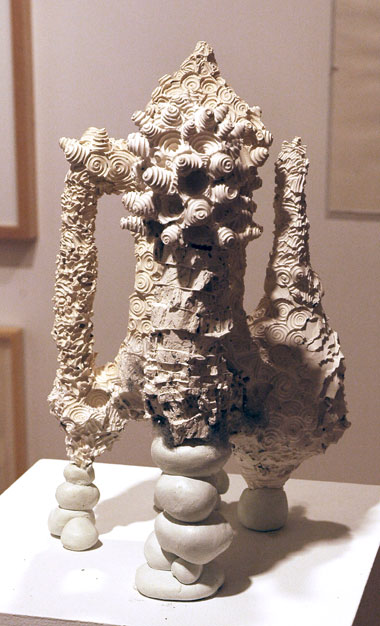 Aaron Sinift* As Yet, No Title 2008 hydrocal and bone infusion, sandalwood powder, poppies and felt 13" x 8.5" x 8.5" [installation view]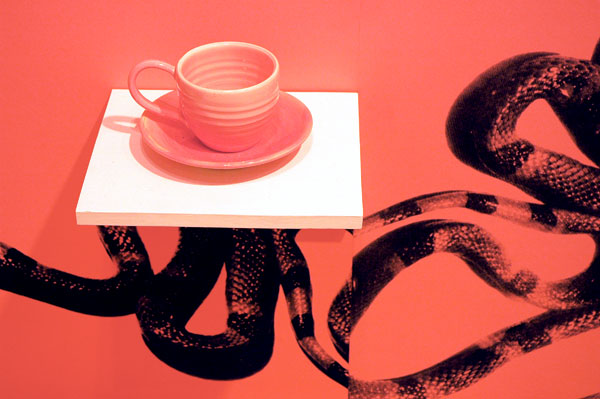 Mary Heilmann The Pink Cup 1983 glazed ceramic 4.25" x 8.5" x 3.5" [lying on a shelf attached to a section of] Rob Wynne Snakepaper 2008 hand-screened ink on paper, dimensions variable [installation view]
The current show at Dinter Fine Art, "How To Cook A Wolf: Part One", has been extended through January 31. It's definitely worth taking advantage of the extended lease of this sexy, rich bricolage of work created over the last several decades (with one 19th-century exception) by dozens of artists of all ages, both familiar and new.
The list, in the order of the gallery handout, includes David Dupuis, Nicolas Rule, Donald Baechler, Rob Wynne, Judith Bernstein, George Condo, Aaron Sinift, Martin Kruck, Mary Heilmann, George Horner, Jack Pierson, Phillip Taaffe, Mia Brownell, Elizabeth Lennard, unknown artist, Michael Byron, Chris Hmmerlein, Judith Hudson, Donald Traver, Betty Tompkins, Dinne Blell, Julie Ryan, Jason Osborne, Paula Collery, Karen Hesse FLatow, Tracy Nakayama and Konstantin Kakanias.
I'm thinking as I'm typing them just now, wow, that's an amazing number of names, and several artists had more than one piece in the exhibition. Yet while Barry and I were in the space the show didn't feel like it was particularly chockablock with stuff. I think that was at least partly because of the clever use of Rob Wynne's wallpaper.
I'm looking forward to "Part Two".
*
for a look at another piece by Sinift, scroll 1/3 down on this post I did last May