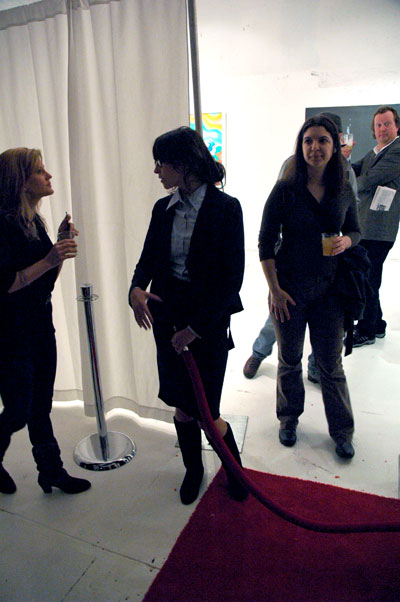 attendant


art dealer
Disarmory art fair, the child of the dBfoundation, "dedicated to creating and fostering ephemeral edifices and intangible structures", had the potential for being the most fun (and genially provocative) experience of the entire New York art fair week this past March. The all-weekend party/exhibition was inspired by the original Armory Show, installed inside the 69th Regiment Armory building in New York City in 1913, for which the huge, annual New York fair, "The Armory Show" (now ten years old) was named.
A number of events teasing the arts and political establishment were scheduled both on and off premises during the three days in which Disarmory was installed at the venue on Mulberry Street (there was even a handsome, zesty newspaper) but Barry and I could only visit it on one evening. We did manage a thorough tour of the heart of the show, an curtained installation of work by ten contemporary artists, each of whom was inspired by one particular early 20th-century antecedent exhibited in the original Armory. We were eventually able to access the gallery precinct itself, overcoming the faux-barrier presented by the classic haughty guardian of the velvet ropes. Inside we spotted another poseur, a faux-diffident, conservatively-suited, make-believe "art dealer" (in fact the righteous artist Dan Levenson) perched on an elevated platform.
Meanwhile, much further uptown the fair which began in 1994 inside the slightly tatty guest rooms of the old Grammercy Park Hotel, and then moved to the historic site of the 1913 show, where it picked up its current name, sat fat and prosperous in its current incarnation on the Hudson River piers which hosted transatlantic luxury liners through much of the century which followed America's legendary introduction to modern art. During the art trade shows of this past March only Disarmory seemed to remember the party which started it all.
The artists we saw "disarming" early 20th-century monuments were Aaisha, Joan Banach, Madeline Djerejian, Jacob Dyrenforth, Peter Gerakaris, Sarah Oppenheimer, Tom Russotti, Aaron Sinift, Suzanne Treister and Treva Wurmfeld.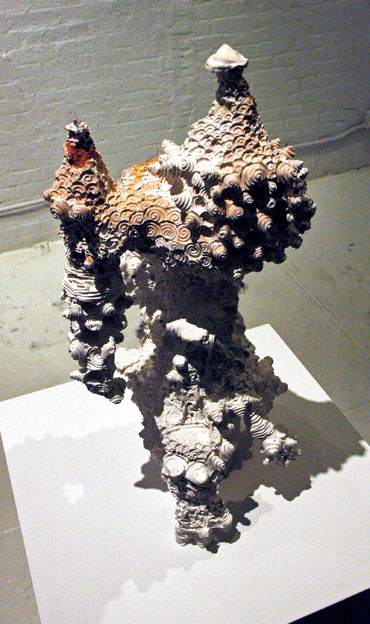 Aaron Sinift revisits George Duchamp's "Nude Descending a Staircase"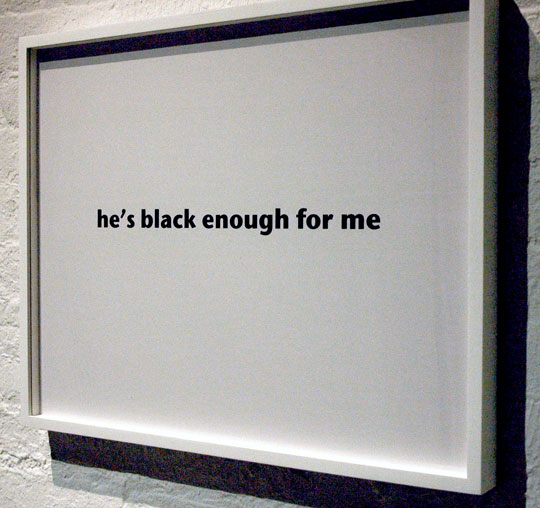 Madeline Djerejian addresses Renoir's "Algerian Girl"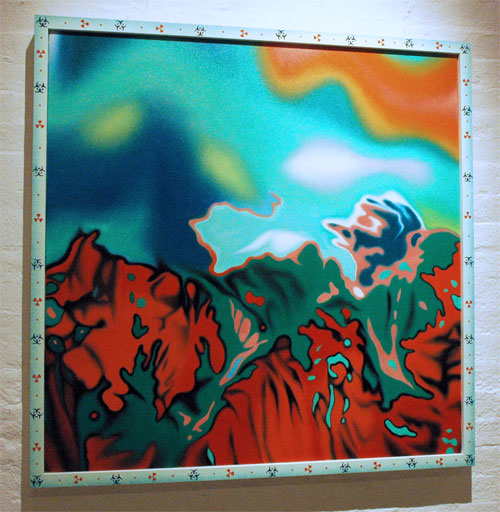 Peter Gerarkis's impression of impressionist Allen Tucker's "Mount Aberdeen"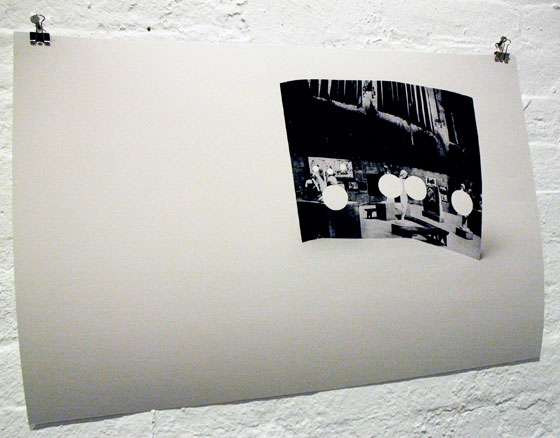 Sarah Oppenheimer's work disarms the modernist statuary in a photograph of the original Armory show installation