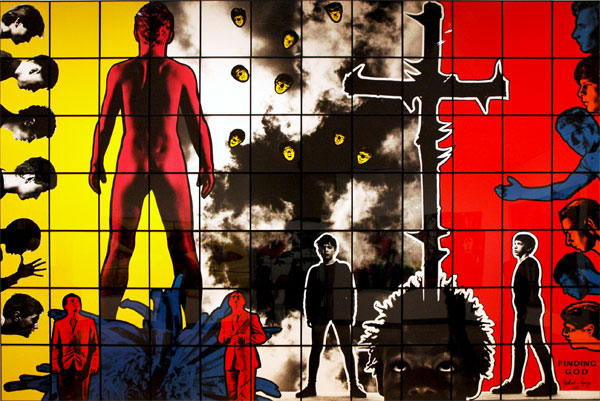 Gilbert & George Finding God 1982 eighty four hand dyed photographs mounted in metal frames 166.5" x 238.5"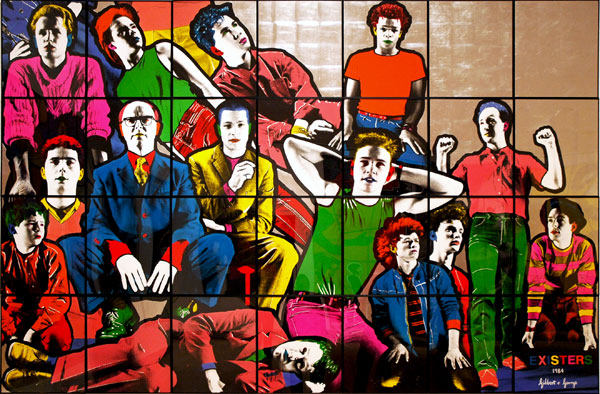 Gilbert & George Existers 1984 mixed media 95.25" x 139"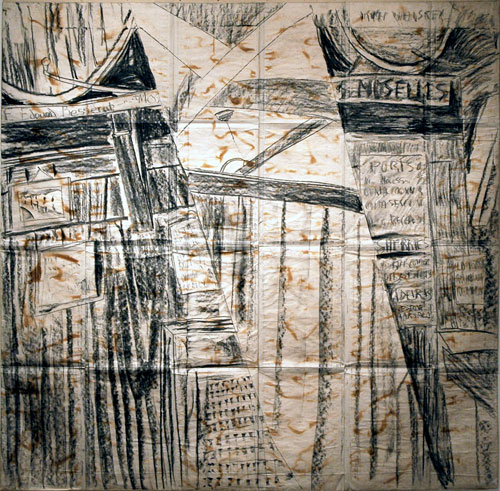 Gilbert & George The General Jungle or Carrying on Sculpting 1970-1974 [one enormous panel, from a set of twenty-three, in charcoal on canvas-backed paper]
We visited the Brooklyn Museum with some friends from the borough across the waters on Saturday afternoon. We picked the date at least partly because it was one of the institution's monthly Target First Saturdays, and the first of a new year. On these days the museum is open until 11, and from 5 in the afternoon there is no admission charged and there are special programs of art and entertainment. The café serves sandwiches, salads, and beverages and there's a cash bar with wine and beer. I have no precise way of pinning down the demographic, but I'd be willing to bet that most of the happy crowd, of every level of sophistication, which we saw devouring the art on each floor were Brooklynites happy to be sharing their great museum with friends and family.
We went because it's one of the best museums in the country, but I'm doing this post because I love that the institution is so serious about engaging with its community and because, more than any other New York Museum, the Brooklyn appears to be committed to enlarging the scope of the free use of photography within its galleries whenever possible.
We wandered through many of the exhibition spaces, but we were anxious not to miss two installations in particular. One was Jesper Just's gentle exhibition of four films, billed with the title of the artist's latest film, "Romantic Delusions", and the other was the huge Gilbert & George retrospective installed on two floors. The Just closed yesterday, but the traveling Gilbert & George show will be here through Sunday.
I've been a fan of Just for years, but I think I had earlier found the work to be somewhat more enigmatic than it should have been. Being able to see these four works in one installation significantly expanded my appreciation of his explorations.
It was pretty embarrassing to be reminded of how ignorant I was about the career of that most excellent pair, Gilbert & George, but following my visit with these "living sculptures" I felt somewhat enlightened, very impressed, and absolutely charmed.
A final note: Not until after we had left the Museum did it occur to me that each of these temporary exhibitions had at least referenced the complex workings of cross-generational male/male affection. It's not one of the more frequently-encountered themes in art; I'm sure it's appearance here was only an odd coincidence. Still, I don't know how it can have gone entirely unnoticed by everyone but me, and I do know that I'm reminded once again that I'm definitely a long way from Kansas . . . er, Michigan.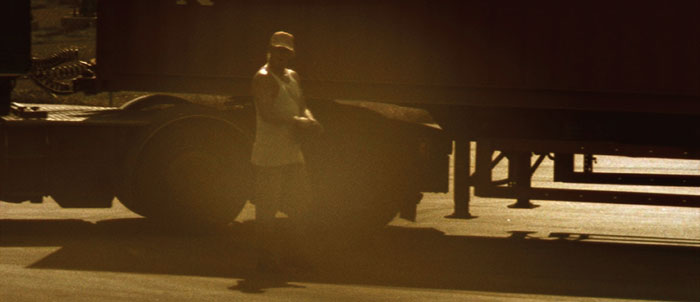 Jesper Just Bliss and Heaven 2004 still from video
[image at bottom from Witte de With]