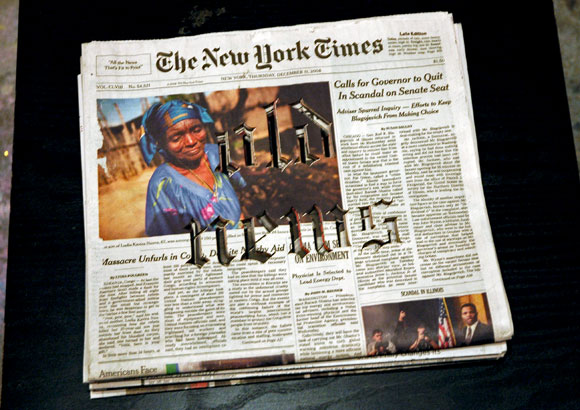 the supplanter will be coming soon in a medium near you
CORRECTION: The announcement of an open studio on Thursday evening was a misunderstanding. The formal viewing is instead going to be next Tuesday, January 27, at Eyebeam, from 2 to 4, or by appointment [michael at mandiberg dot com] through the end of that week, until January 30.
It seems like it was only yesterday that we were calling out happy new year to every one we encountered, but I'm suddenly realizing that time's already a wasting; 2009's baby is already talking, and will soon begin to walk: What I mean is that I've just realized I have to rush this one out before midnight.
Michael Mandiberg is hosting an installation of his latest work at Eyebeam tomorrow night, Friday, January 22, from 5 to 7 pm, and I haven't written a thing about it.
I've already checked it out, and I'm hoping to expand this blog tomorrow with more images and a few additional words, but I wanted to give a heads up right now to people who might be able to stop by for the reception. For others who might still able to haunt our rich streets this month, the work will be assembled there in its own space through January 30.