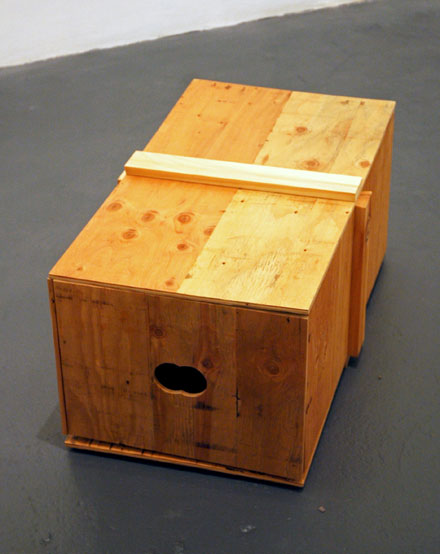 Taylor Davis Swordfight 2006 plywood and pine 16" x 19" x 33" [installation view]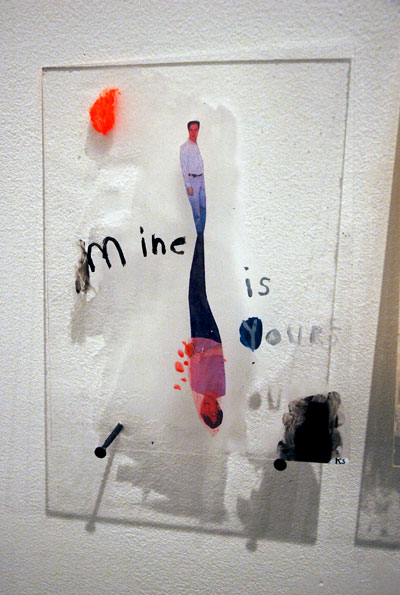 one of nine panels included, mixed media on plexiglass, 8" x 10" each, from a series by Katherine Streeter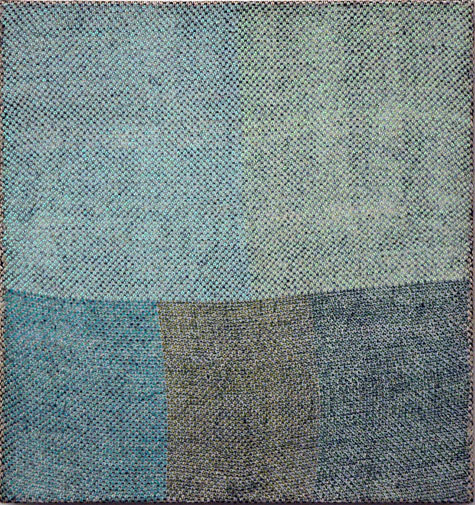 Mark Barrow Bric a Brac 2008 acrylic on hand-loomed linen textile by Sarah Parke 15" x 14" [one of two parts, the first part 16" x 14", installed to its left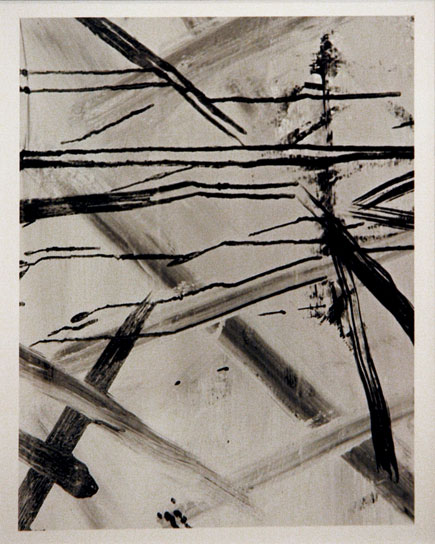 Anthony Pearson Untitled (solarization) 2008 framed solarized silver gelatin photograph 19.5" x 16" unique [view of installation, not including mat]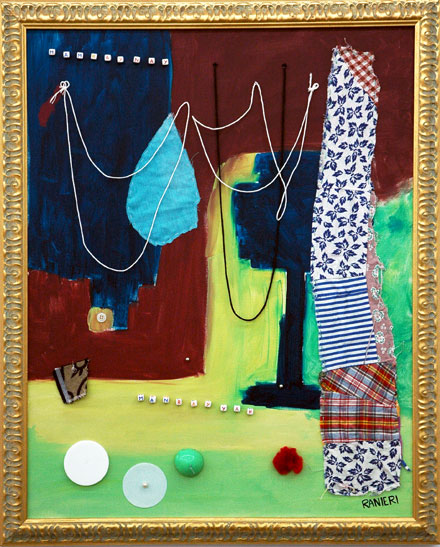 Michael Mahalchick Ham Ray Nay 2008 mixed media 33.25" x 27" x 2"

Erik Lindman Twilight 22 Electric Kingdom 2008 oil on canvas 14" x 11" [installation view, including site-specific shadow cast by etching on glass door]
This look at some shows on the Lower East Side is the fourth and last of the current series of visits to gallery neighborhoods.
The current show at Cuchifritos, "A Relationship Left For Dead on the Lower East Side" is my nod to tomorrow's holiday, but the curator, Bill Previdi beat me to it, probably many months ago. It's a compact and very smart installation about relationships inspired by a photo album given to him by a friend who had found it somewhere in the neighborhood served by/serving this gallery, a non-profit space described on its web site as having a focus "on contemporary art as it relates to community, social issues, and public space." When we saw the show on the day it opened Previte told us that he knows nothing about the two men who appear in the pages of this album left on a curb nearby, but if they should happen to see the show and recognize the photos it would be returned. I haven't heard if either or both have turned up, but Previdi is closing the show with a reception from 4 until 6 - on Valentine's day.
Lisa Cooley is showing the first of a series of three-person shows, in the words of the gallery statement, "juxtaposing a canonical artist with both an established and an emerging figure". Not surprising for this gallery, this is an exquisite installation which places Binky Palermo on the wall opposite the entrance, with works by Anthony Pearson (b. 1969) and Mark Barrow (b. 1982) trading places and dancing on walls to the right and left.
CANADA is showing Michael Mahalchick in "For What It's Worth", and its pleasures are definitely worth a lot, beginning with the image on the invitation and the website. How can everyday leavings be made so wacky and beautiful at the same time? My favorite line in the press release: ""For What It's Worth" is a celebration and ritual offering to the collective ewwwwww."
Barry and I both decided we had to get to Mott Street for the current show at V&A, if only on the basis of a piece we had seen last month in a group show at BUIA by the Chinatown gallery's featured artist, Erik Lindman. Lindman's piece in that show was called "Zac Efron in Highschool Musical 3 with my iPhone – Magic Johnson Theatre". His solo show on the Lower East Side, "House Wine, House Music" includes four paintings, one shadow and a photograph, all of which are described as an attempt to make art that is anonymous. In the oils he may have to actively create what he is able to find ready-made with his camera, but when he erases pigment and representational shapes to describe negative spaces on his canvases he is seeking the same end, what the gallery notes describe as "A conscious lack of intention through attention to negative spaces."