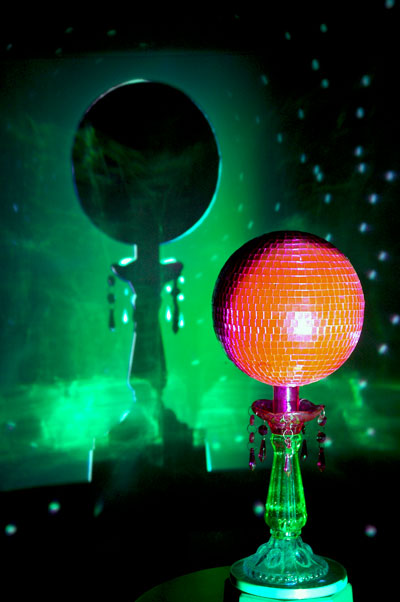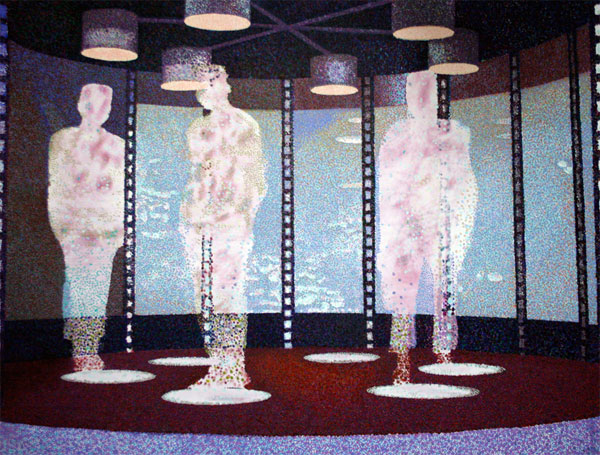 The current exhibition at Jack the Pelican, "Mr. Benn's Spare-time Continuum" will close tomorrow, Sunday, at 6. This means that there are only two days left for a chance to enter into the squirmy/cozy comforts of what is described here in the gallery press release:
The timely anachronism of Richard Wilson's mechanistic renderings of super-tech ideas points to Britain in an era when unassuming people lived in modest circumstances [my emphasis, since I love that phrase].
Wilson's introduction of Mr. Benn to New York gallery goers might have been a risky proposition, since the popular early-1970's BBC show, based on a popular children's book published a few years earlier, never made it to our shores, but the installation resonates with our own island's 21st-century fantasies, sentimentalities and anxieties.
The exhibition may be one of the strangest scenes to be found in an area gallery right now, but I've found myself going back to it in my mind since I left it one week ago, no small thing for this crowded ADD head.
The mirrored ball may suggest the iconic 1964/1965 New York World's Fair Unisphere, and the transporter room painting appears to be a riff on Seurat's pointillist "A Sunday Afternoon on the Island of La Grande Jatte" [surely what all "trekkies" were thinking each time that set showed up in Star Trek].
If you go, enjoy the soft, tufted Chesterfield sofa and take advantage of the hot water urn and tea makings.
[second image provided by the artist; my own was corrupted by the very low light, but it otherwise had the advantage of including a number of pink points of light thrown from the disco ball across the room]