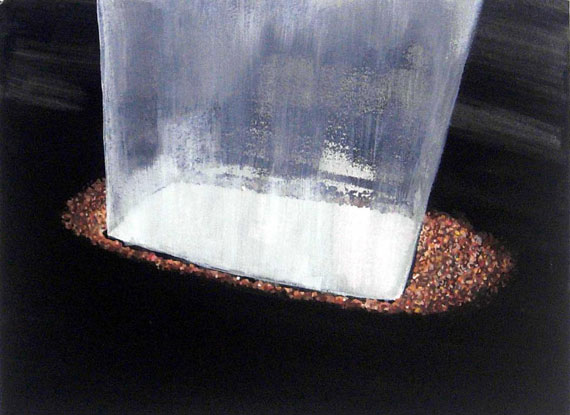 Jessica Cannon The Blinding 2008 gouache on paper 9" x 12" (13" x 16" x 1" framed)

Pamela Jordan Unititled 2006 oil on linen 21" x 21"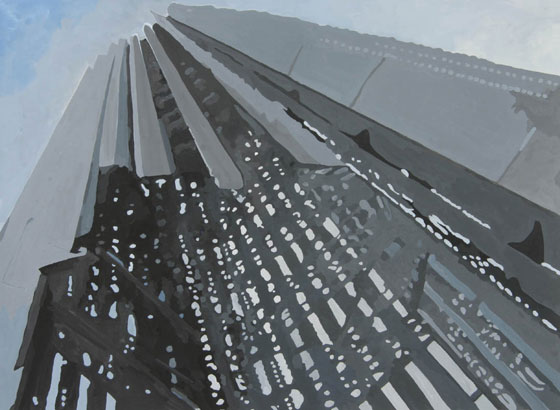 Eric Heist Untitled (Megachurch) 2007 gouache on paper 22" x 30"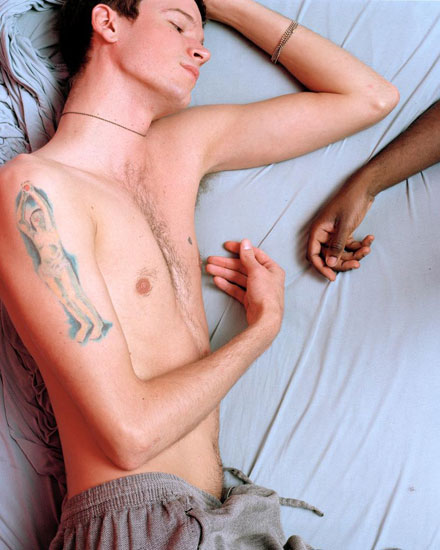 Paul Mpagi Sepuya Self-portrait with John 2005 C-print 10" x 8" (edition 2 of 3)
Not satisfied with seeing them only online, Barry and I finally got to see the actual works available in the fifth annual BAMart Silent Auction last night. Having headed off to Fort Greene for the benefit party held in the lobby of the historic Brooklyn Academy of Music, we found ourselves surrounded by the art and a huge crowd of very enthusiastic patrons - of all ages.
The list has been very smartly curated once again, but this year represents something of a change in that many more emerging and local Brooklyn artists have been included than before. The expectation is that the event will be energized with the infusion of larger numbers of emerging and artists related to the community. Judging form the attendance and the activity at the computer stations in the room last night that bet seemed to be paying off already.
I looked at the list this afternoon however and I saw that on most items there's still a lot of room left between the minimum bids and estimated values. Even though I know a lot of passionate people generally wait until the last moment [the auction closes Monday night at 8] to enter these "competitions", there are now and should remain some terrific opportunities on every donor/purchase level. I've included a few images here only to show a bit of the range; You can be an art lover and a patron for only a few hundred dollars, and I probably only have to mention in passing that there's also a Rauschenberg print, a great, still-affordable Louise Bourgeois edition which has already generously exceeded its estimate, an Alex Katz print, a Chuck Close photo diptych, a Don Baechler gouache and collage, and an exquisite Malick Sidibé multimedia piece.
Visit the benefit site for more information, including a funny how-to-bid-online-video from Andrew Andrew, and a complete catalog of the more than 150 works available.
[image of Eric Heist drawing from ArtNet; all others from BAMarts]