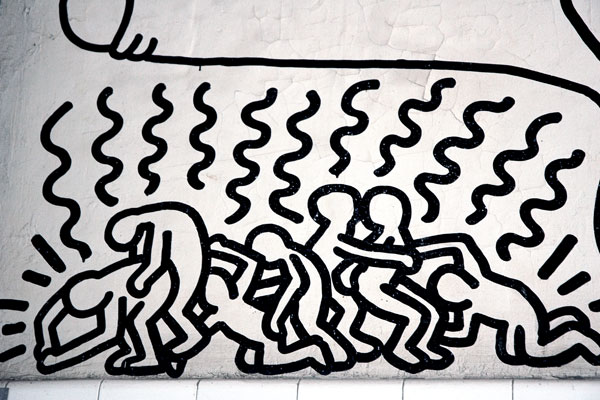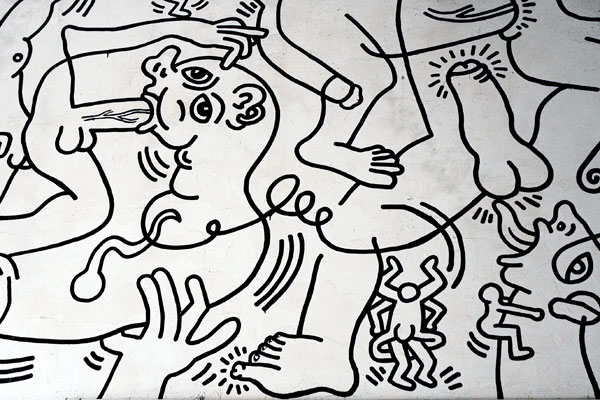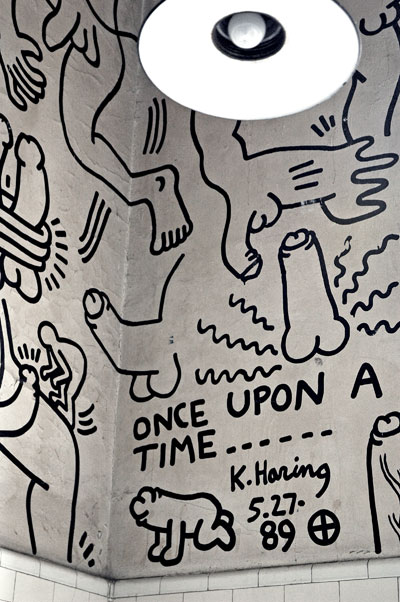 I've seen it described as his masterpiece; it's almost certainly his most personal, exuberant and uninhibited expression of pure sexual jouissance.
Twenty years ago today Keith Haring finished his men's room mural, "Once Upon A Time", on the second floor of the LGBT Community Center on West 13th Street. Then he signed and dated it. The detail shots above show that it remains there today, pretty much as he left it, with one important exception: The ancient toilet fixtures and partitions which brought both great relief and great joy to the building's habitues over the years have long since been ripped out. Sadly, the room appears to have fallen into desuetude.
But, wait, is that actually a conference table I see in the picture below?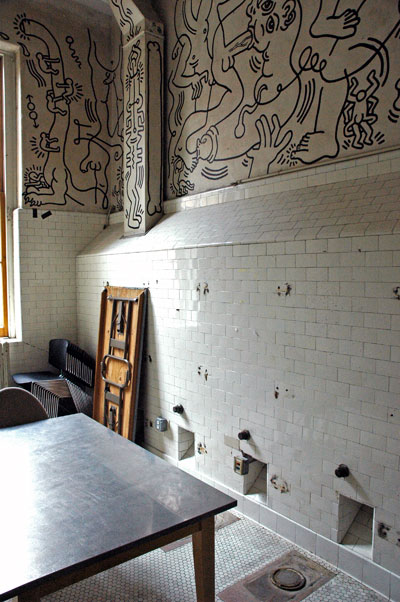 While Haring's room-size installation may have been the most extravagant, it was just one of many works included in The Center Show [see video], organized in 1989 to celebrate the 20th anniversary of Stonewall. These additional artists included, among others, Leon Golub, David LaChapelle, Barbara Sandler, Kenny Scharf, Nancy Spero, and George Whitman, and much of their work remains inside this amazing, reinvented 165-year-old school building today, continuing to enrich the dynamic energy it both encourages and shelters.
The Center is putting on a show again this year. It's entitled "Then and Now", and it's intended to commemorate the 1989 events with a new installation by a new catalog of artists, although without the permanent, applied-directly-to-the-walls part of the original. It opens tomorrow, May 28, with a free reception from 6:30 to 8:30, and it will remain installed throughout the summer.
The artists invited this time around are:
Trisha Baga, The Brainstormers, Ian Campbell, Tre Chandler, Chi Peng, Abby Denson, fierce pussy, Daphne Fitzpatrick, Lola Flash, Alex Golden, Rory Golden, James Kaston, Jillian McDonald, Bill Mutter, Deirdre O'Dwyer, James Rohmberger, Jamel Shabazz, Nathaniel A. Siegel, Lori Taschler, Wu Ingrid Tsang, Forrest Williams, and Sarah Nelson Wright