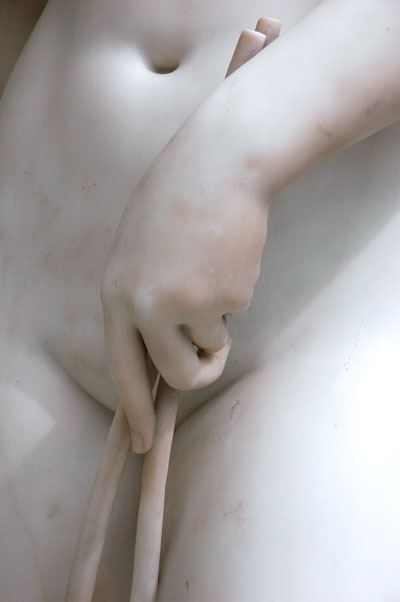 with good in one hand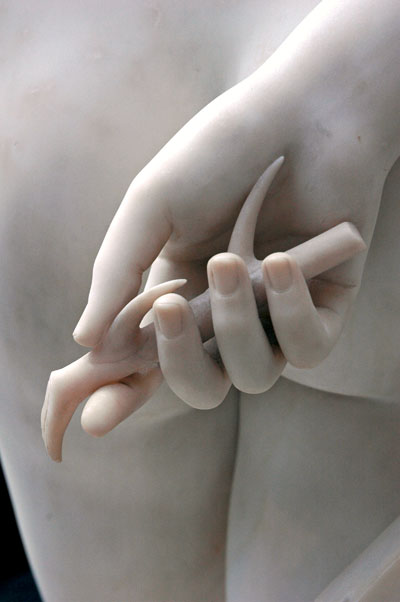 and evil in the other
Barry and I happened to be visiting the Metropolitan's newly-reworked American Wing on the same day the California Supremes announced their decision on queer marriage. There didn't seem to be one jot of a connection between the two events when we started out, but I eventually manged to find one.
I spent much more time with the nineteenth-century sculptures in the glass court than I might normally have expected to because we were with the artist Sarah Peters, whose work has been inspired by the milieu in which these earlier American masters flourished, and by their skills, although she finds her own space in interpreting that world anew and commenting on what the artist and his/her contemporaries thought of it through her own drawings and sculpture.
I was also eager to investigate what had inspired Holland Cotter's terrific piece on the galleries which appeared in the Times last Thursday.
The female nude by Hiram Powers, intended as a California allegory, attracted my attention primarily for the odd props the figure was holding, especially the divining rod which she grasped so demurely before her smoothed pudendum. My mind jumped back to the news of the day when I read the note on the museum card, which reads in part:
Inspired by the California Gold Rush of 1849, Powers devised the following program for this allegorical figure: ". . . an Indian woman . . . stands in a reserved and guarded posture and with a watchful expression, holding the divining rod in her left, and pointing with it down to the earth, under a large quartz crystal, which supports the figure on the right. Quartz is the matrix of gold and the divining rod is the miner's wand, or the sceptre of 'California' . . . In the right hand, which is held behind, there is a branch of thorns, to finish the allegory for she is the miner's goddess, or 'Fortune,' and as it is usual to represent the Goddess 'Fortune' with good in one hand and evil in the other [my italics], by suitable emblems I have done so with 'California,' and the moral is that all is not gold that glitters. . . ."
What California gives, she also taketh away - sorta, sometimes, possibly only for a while. Maybe the queers will eventually make out, er, . . . that is, within a structure certified by the state.
BTW, it would certainly help if we could remember to call it "civil marriage" rather than "marriage", which in this benighted land always means religion is involved. That way we might be able to get the folks over 30 to go along with the concept.
For those still interested in the allegory with which I started this post, here's "California" in full figure: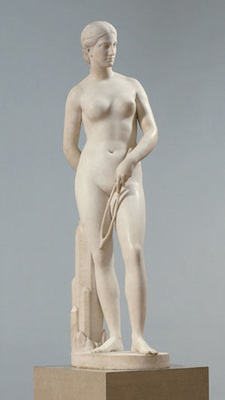 Hiram Powers California 1850–55 (this carving, 1858) marble 71" x 18.25" x 24.75"
[third image from Metropolitan Museum of Art]