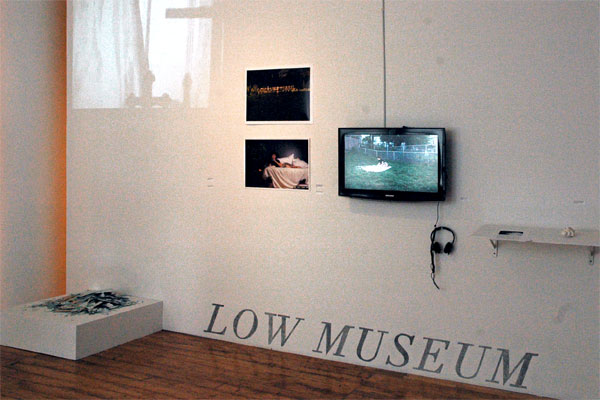 "Low Museum", curated by Karen Archey, including a work by Jason Lazarus and Archey's collaborations with Daniel Chew and Tara White [installation view]
"Young Curators, New Ideas II" is an exhibition featuring the creations of 21 artists, installed in seven parts or "rooms", the parts corresponding to the work selected by seven young curators, or collaborating curators, and in one instance "work" by curators which one group of these curators collectively admire or respect. The curatorial responsibility for the entire concept was shared between amani olu projects and P.P.O.W. Gallery itself.
It sounds like the show's about the art of curating, and it is, but don't let the concepts get too much in the way of your enjoyment of some dynamite pieces.
The show closes tomorrow, Friday, at six.
The curators are Karen Archey, Cecilia Jurado, Megha Ralapati, Jose Ruiz, Nico Wheadon, Cleopatra's (Bridget Donahue, Bridget Finn, Kate McNamara & Erin Somerville), and Women in Photography (Amy Elkins & Cara Phillips).
The artists, working alone or in collaboration, are Karen Archey, Daniel Chew, Jason Lazarus, Tara White, Tom Fruin, Norma Markley, Jaret Vadera, Alejandro Diaz, Las Hermanas Iglesias, J&J, Jessica Ann Peavy, Bryan Zanisnik, Taylor Baldwin, Boyd Holbrook, Dawit L. Petros, Segtram, Noelle Lorraine Williams, [selected working curators], Michele Abeles, Tierney Gearon, Els Vanden Meersch, and Victoria Sambunaris.