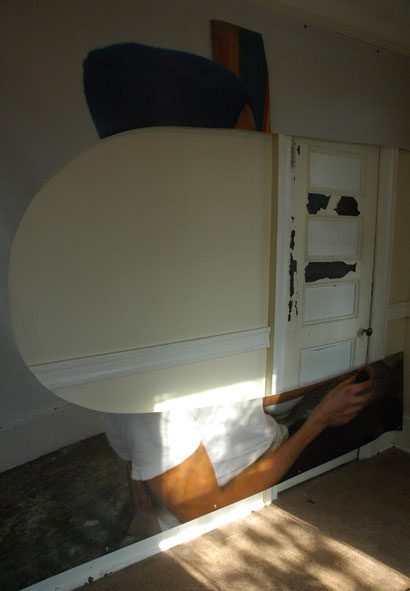 Nathan Dilworth's monster-size cut-out photo prints address the architecture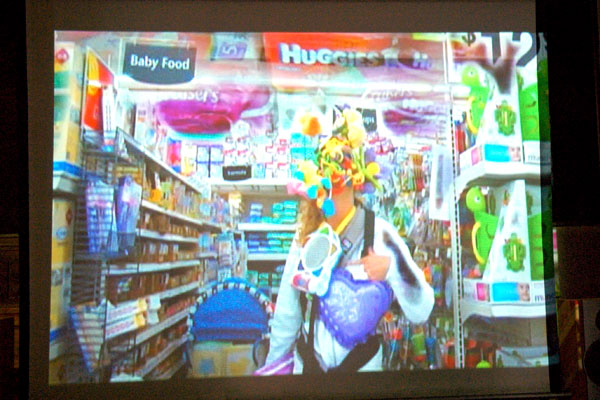 Molly Lowe's video of compulsive consumption, "K-mart shopping", is in the former chapel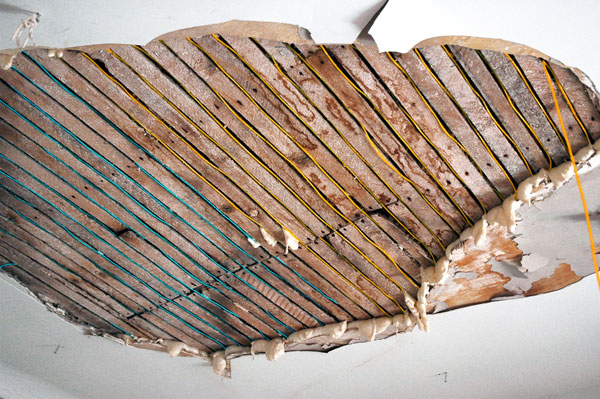 Julio Cesar Gonzalez's thin cables of light are strung between ceiling laths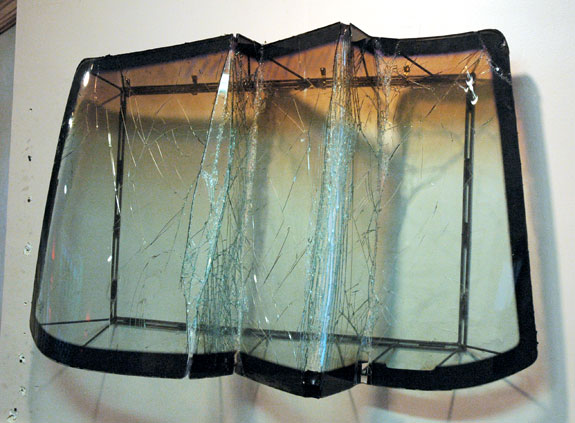 Aaron Frank sculpts found windshield glass into fluid forms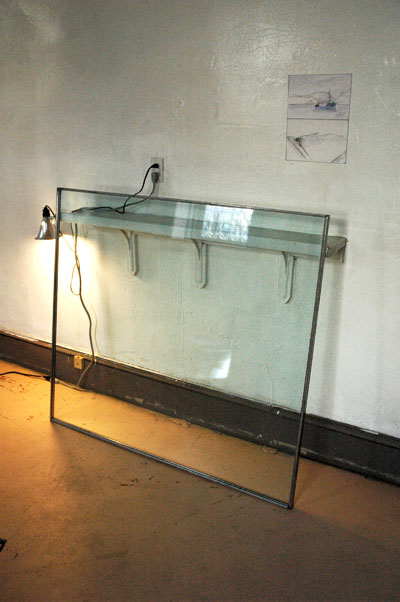 Brian Kain's room installation includes an abstract video on a vintage TV (seen in reflection)
There's no need to go to the islands this weekend for some fresh air, as Barry and I learned on a sunny afternoon last weekend. We arrived in the big-sky country of middling-far Greenpoint when we emerged from the Graham Ave. station of the L line and we found fresh art after we made our way to "Room Tones" installed inside the four floors of the now-emptied rooms which once described Saint Cecilia Convent.
The participating artists are Rebecca Adams, Paolo Arao, Jason Bartell, Nathan Dilworth, Brock Enright, Aaron Frank, Chris Georges, Julio Cesar Gonzalez, Colt Hausman, Adam Henry, Colin Hunt, Brian Kain, William Latta, Qing Liu, Molly Lowe, Owen McAuley, Susan Sabiston, William Sabiston, Mike Schreiber, Emily Mae Smith, Nathan Spondike, Ryan Sullivan, Kristina Williamson, Leah Wolff and Katherine Wolkoff.
The website describes the environment of the temporary space which hosts the show:
An exhibition reflective of our contemporary atmosphere, Room Tones is also a return to an early and influential site of western art. The Catholic convent of St. Cecilia in Greenpoint was once a robust institution, home to a steady then slowly decreasing number of nuns until it was closed and vacated in 2008. Like many empty storefronts throughout New York City, the situation of this particular convent is a barometer of the complex social and economic changes taking place in Greenpoint and its neighboring L train enclaves. Spiritual views and orientations aside, Father Krische, pastor of St. Cecilia, has generously worked with organizer Nathan Spondike and his team making Room Tones an event that will reinvigorate this unique 97-year-old building into a testament of the new thoughts and ideas emerging from artists around it.
I just found out the show has been extended through Thursday, Friday and Saturday of next week (and can also be seen by appointment), so if your feet are already buried in the sand miles away from the City you'll still have a chance to tune in to this fresh, scrappy show in one of the neatest neighborhoods of Brooklyn.
Check the site for days and exact times.
NOTE: The convent continues to function on at least one level: We noted the presence of a neighborhood "emergency food pantry" inside, and now I learn here that "Gifts of Love" had recently been opened by volunteers from St. Cecilia's parish "as a means of offering a few days sustenance to those who are unable to stretch their funds".
I almost forgot to upload one more image. It was taken from within a room formerly occupied by one of the nuns. It may be a part of the work installed inside there now, or it may just be a casually-placed window prop.
UPDATE: I've learned that the image is of "7 of hearts", a part of a much larger installation by Kristina Williamson.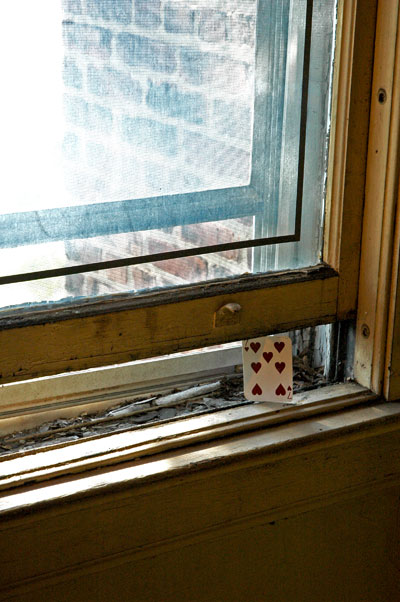 Christina Williamson's installation included these seven hearts