I had already planned to do a very quick roundup of worthy shows closing very soon when I saw Art Fag City's holiday post, "What To See Before Christmas". Now I was further inspired to go ahead, but not wanting to copy her style (and also because I don't do xmas or any other conventional December holiday), and finally, noticing that tomorrow is my birthday, I've decided to go with the self-referential title at the top.
The Cinders show actually does close tomorrow, Saturday, but the rest will be visible for another one to four days.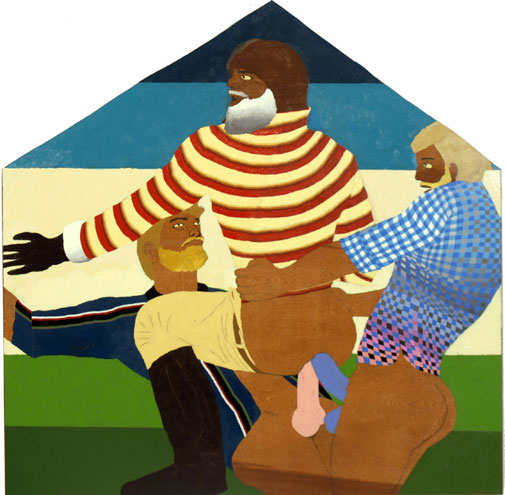 Leidy Churchman Three Beards 2007 oil on wood 48" x 48"
The layered expression within this Leidy Churchman painting gives only a hint of what to expect from "Ridykeulouse Hits Bottom" at Leo Koenig Projekte, a group exhibition "curated with an iron fist" by Ridykeulous, otherwise known as as Nicky E., aka Nicole Eisenman and UnkAL, aka A.L. Steiner.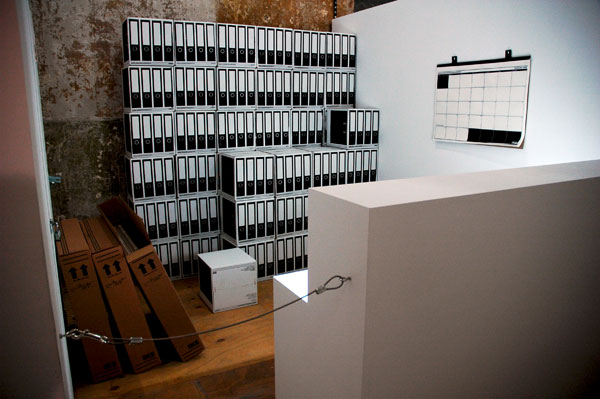 large detail of Dan Levenson's "Little Switzerland"
"Nothing Up My Sleeve" at Participant, an homage to Stewart Sherman, includes an installation by Dan Levenson, one of the artists in this truly amazing group show which focuses, in the words of its curator, the artist Jonathan Berger, on the creation of "alternate lived realities through the use of various forms of deception".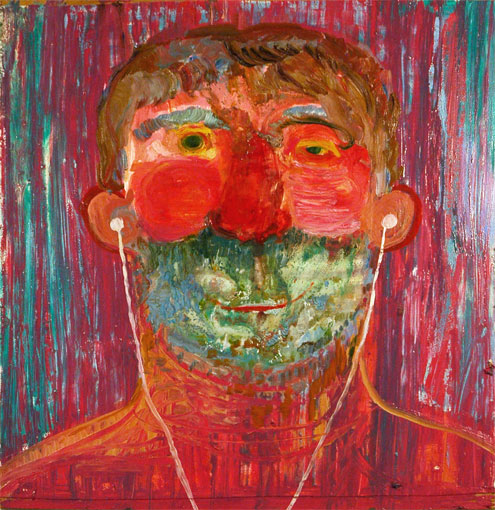 Nicole Eisenman iPod guy 2009 oil on canvas 24" x 21"
Nicole Eisenman's solo exhibition of paintings at Leo Koenig's main gallery is simply wonderful, awesomely humanistic, and one her most exciting outings.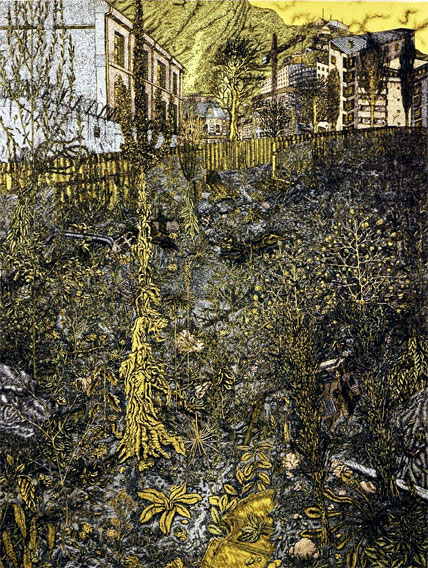 an extraordinarily-detailed print by an artist identified only as Nuvish
Cinders is hosting Le Dernier Cri: vomir Des Yeux for just one more day, displaying a spectacular selection of prints, books and video from a remarkable operation run out of an old hospital in Marseilles by a pair of artists which for 16 years has been producing, in the words of the press release, "legendary volumes of painstakingly handmade, beautiful, vibrant and violent monograph prints, books, and videos featuring some of the most irreverent underground artists in the world", all in small runs of about 150.
These remarkable prints are also remarkably affordable: $75 sounds like a gift, in more ways than one.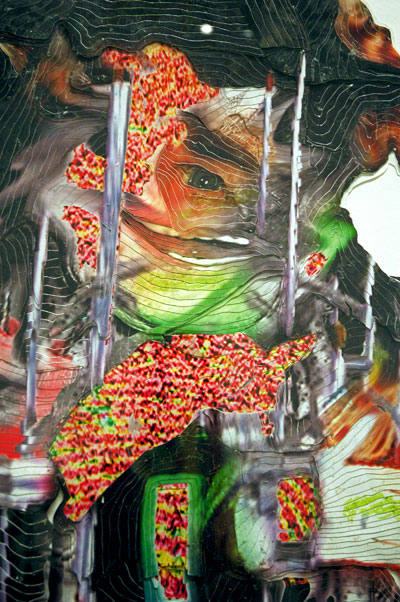 detail of one of Jacques Louis Vidal's collages at Jancou
At Marc Jancou's gallery in Great Jones Alley Jacques Louis Vidal's powerful sculptures and delightfully-abstruse installations are framed on the main floor by a number of large-scale magazine-page-cutout collages mounted along the walls.
The show, "You are What You Look At" is worth every bit of time that can be spared for it.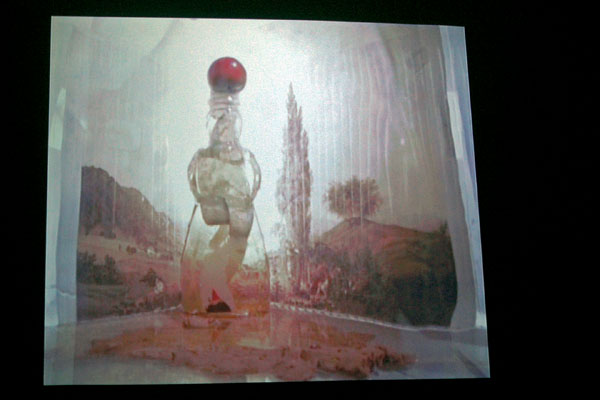 still from the installation of Tommy Hartung's video, "The Ascent of Man"
On Stellar Rays is showing Tommy Hartung's stunning video, "The Ascent of Man", through this Wednesday. The title is adapted from the 1973 BBC documentary of the same name, and like the original, but with found footage and stop-action photography using his own remarkable models, it documents humanity's ascent from ape to man.
It's an impressive followup to the exquisite work he's shown before, and I wouldn't want to let this artist out of my sight going forward.
[image at the top from the artist's website]