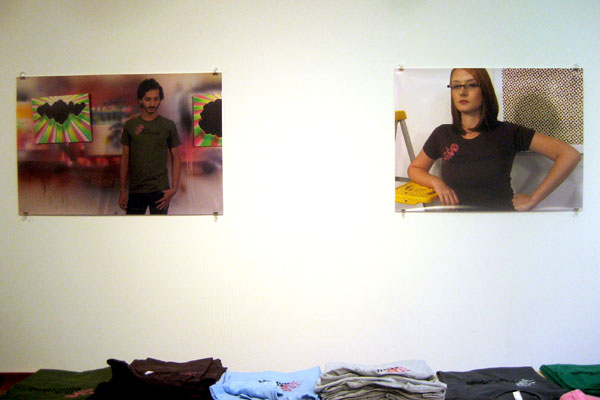 images of two fictive young Swiss artists hanging above the t-shirt and thong table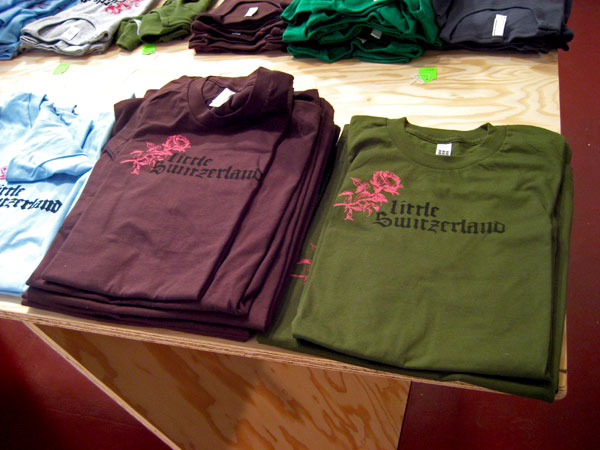 a detail of the t-shirt display, showing the gallery's unforgettable logo
What does an excellent young artist do when he wants to stretch his wings and diversify his brand or just investigate other tracks, and at the same time exercise his previously-tested and proven performance skills? Dan Levenson decided to open a shop, er . . . gallery.
Levenson was already known for his very smart, beautiful and bright, pop/torquey/Neo-Geo/black hole/bleeding-edge/perspectived, acrylic confections. I mean all of that in the very best sense: I've really liked everything I've seen him do. He's also initiated some very cool conceptual projects [see FrEE MoMA!]. This fall the artist turned his studio at the Elizabeth Foundation [EFA] into an imaginary Berlin art boutique representing young Swiss (we probably don't have to ask why "Swiss") art and its accoutrements.
The invitation Levenson sent out to his open studio installation, "Little Switzerland" reads as follows:
A Switzerland of the Mind

For three days this week, a Swiss art gallery will open its doors in Manhattan. Little Switzerland is a Berlin-based art gallery representing a roster of eight emerging Swiss artists. None of this would be unusual except for the fact that the gallery doesn't really exist, and the artists are all the fictional creation of one (American) artist: Dan Levenson.

This year Little Switzerland will present large-scale color photographs showing several of the gallery artists at work in their Zürich studios and modeling the new line of Little Switzerland branded apparel featuring the gallery's distinctive logo. Little Switzerland apparel will be on sale for those who'd like to become a part of this conceptual project.

-Hans-Ruedi Girschweiler, Zürich
What visitors found when they arrived in Suite 506 was the artist's conceptual project itself. Dressed minimally in commercial-looking photographs of the loft-like gallery's eight artists posed inside their tidy studios as well as several examples of their paintings, executed in eight different styles (all ghosted by Levenson), the installation also included a stylish modern table and a chic industrial-pipe wheeled hanging rack, where various kinds and sizes of clothing and drinking vessels bearing the Little Switzerland brand - which always appears in German
Fraktur
- were displayed and offered for sale.
I really liked the photographs, enjoying the invented world each represented. I can also say that at least some of the paintings and drawings their creator attributes to his fictional artists could stand on their own, without help from the conceit carved by their Gepetto. Check the site. I wonder whether and where his experience with them might take Levenson from here? Oh yes, there were also some super examples of the very latest in Levenson's primary and continuing series of paintings, the more recent of them incorporating elements of stylized, slinky highway markers (or star tracks?).
One of my favorite things was a thick, black, generic, fabric-bound artist-published book, "SWISS ARTISTS". Inside there were 650 pages, each running four columns of full names printed in small type (not arranged alphabetically, so not very Swiss, it would seem). The given names were from a book of Helvetian baby names; the family names were taken from the Zurich phone book. I think I heard that there were no repeats, but I know I was told that Filip Noterdaeme bought a copy. Now Noterdaeme's partner Daniel Isengart reads to him from the book every night before they retire. Even without a sensitivity to sound, to Dada and surrealism, this is poetry.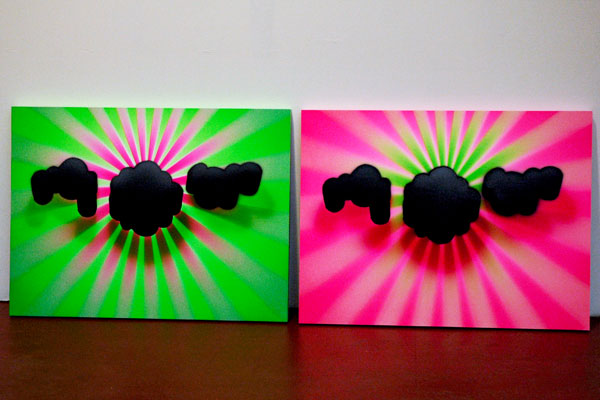 two of the artist's own recent paintings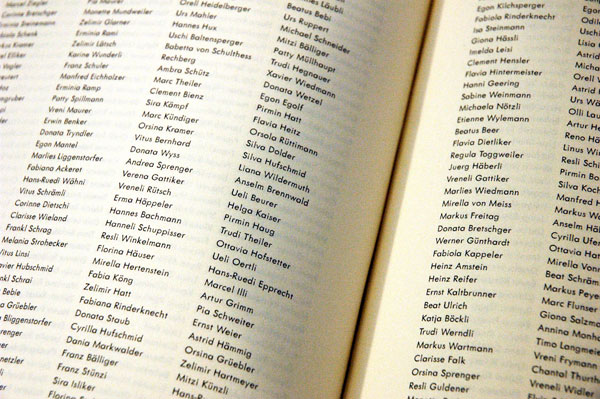 the opened name book, "SWISS ARTISTS"
[first two images from Barry]