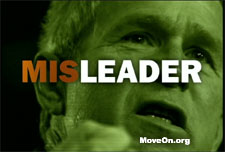 "Who's Unpatriotic Now?" asks Paul Krugman today. He's writing about the White House's appalling manipulation of the media, which means the manipulation of all of us of course, also the intelligence services, and, yes, the military, including every last young man or woman still at home or in danger abroad. "Support our boys," indeed!
Someone should finally ask "Why are they doing this?" any day now, but those who never bought the sales pitch and the lies in the first place already know perfectly well why. The wars were created in order to distract us all from the administration's domestic schemes, both their cynical successes and their miserable failures, and to finally secure the entire world for the same narrow purposes. These are wars for security indeed, the security of corporate America.
To illustrate dramatically the lengths to which Bush and his people will go to protect their inventions, Krugman ends his Op-Ed essay with the news, shockingly not reported anywhere else in the NYTimes today, but easily found elsewhere, that administration officials have disclosed the identity of a C.I.A. operative, Joseph Wilson's wife.
Mr. Wilson is the former ambassador who was sent to Niger by the C.I.A. to investigate reports of attempted Iraqi uranium purchases and who recently went public with his findings. Since then administration allies have sought to discredit him — it's unpleasant stuff. But here's the kicker: both the columnist Robert Novak and Time magazine say that administration officials told them that they believed that Mr. Wilson had been chosen through the influence of his wife, whom they identified as a C.I.A. operative.

Think about that: if their characterization of Mr. Wilson's wife is true (he refuses to confirm or deny it), Bush administration officials have exposed the identity of a covert operative. That happens to be a criminal act; it's also definitely unpatriotic.

So why would they do such a thing? Partly, perhaps, to punish Mr. Wilson, but also to send a message.

And that should alarm us. We've just seen how politicized, cooked intelligence can damage our national interest. Yet the Wilson affair suggests that the administration intends to continue pressuring analysts to tell it what it wants to hear.

The article in
Newsday
today reminds us that in uncovering her name, including her maiden name, and her security position, the administration officials responsible may have endangered the career of Wilson's wife, Valerie Palme, "and possibly the lives of her contacts in foreign countries."
. . . .

"If what the two senior administration officials said is true," Wilson said [He has quite properly refused to confirm his wife's employment.], "they will have compromised an entire career of networks, relationships and operations." What's more, it would mean that "this White House has taken an asset out of the" weapons of mass destruction fight, "not to mention putting at risk any contacts she might have had where the services are hostile."
Sure sounds like the Constitutional definiton of treason, especially as understood by the gung-ho Radical Right: "
treason
n
the offense of attempting to overthrow the government of one's country or of
assisting its enemies in war
"