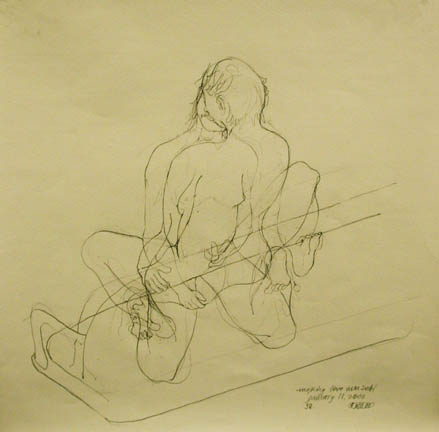 Danica Phelps
We stopped by the LFL opening on Friday, but could only stay briefly, in spite of my heads-up broadcasted earlier in the week. We had to be in Brooklyn at about the same time, but we'll be back. I recommend that anyone thinking of visiting Danica Phelps's grand and intimate installation set aside more than a few minutes, even if you don't intend to talk to the live-in artist - just what Kiki Smith was doing at the opening reception. The drawings, the texts and the concept are much more than a seductive conceit, but there's that too.

Saturday afternoon, on the first weekend of the fall season, we walked about western Chelsea without assignment, deciding to take advantage of the fact that virtually any gallery show in the neighborhood would be there for weeks. Ah, like the first day of school, but with the difference that there would be absolutely no pressure.
We started with Galerie Lelong's show of new, literate sculpture by Donald Lipski, called "Non-Fiction." Beautiful installation, magnificent shapes and textures. More.
James Welling still throws out magnificent studies and manipulations of found light. His photographs at Gorney Bravin Lee [site unfortunately not updated yet] are never just pictures. Every one is a challenge, and not just for "Where's Waldo?" enthusists, since the rewards are aesthetic and intellectual. A wall is not a wall.
But then we crossed the street and walked into the James Cohan Gallery not knowing what we would find there, and the day was transformed. Some time later we walked out of this beautiful, serene show, "A Simple Plan," with our feet inches above the pavement. Wonderful, literally. Favorites include: John Cage, Tom Friedman, Adam Fuss, Hans Haacke, Paul Pfeiffer, Gerhard Richter, Karin Sander and Hiroshi Sugimoto.
Philip-Lorca diCorcia unfolds a beautiful poem at PaceWildenstein. Scores of small prints of images taken over 25 years compose a sorta fictional and sorta autobiographical non-narrative. Every light imaginable, some barely, recorded. Lyle Ashton Harris, who just opened an important show himself [still on our list of must see's!] at CRG Gallery, was looking at every one.
Marilyn Minter has a dynamite, jewelbox show at Fredericks Freiser, with with richly-figured photographs and paintings. The paintings are enamel applied with her fingers on metal, a technique which mimics her subject. "Her paintings . . . deal with the pathology of glamour" reads a description on one online site.
Tim Davis was enjoying the opening of his second show at Brent Sikkema Saturday. We liked his series, "retail," in 2001, with its images of commercial signage morphing over the American landscape. The new work also succeeds in turning light into a dimensional object, while it examines how we physically approach iconic art imagery, questioning a relationship many of us take for granted. Very cool, and incidently very generous to some wonderful images.
Andrew Kreps was hosting a closing party for a totally delightful and smart show curated by his own artists and staff and including only selections from their own collections, er . . . stuff. Seen about: Eli Sudbrack, Lillian Ball and David Reed. Loved Ricci Albenda's parakeet.
Anton Kern was showing Ellen Berkinbilt. We both loved the smaller images, especially those boasting darker pallets, but couldn't register the larger, metal screen "canvases." Arto Lindsay and David [looking good!] Byrne seemed very pleased to be there, or at least they found plenty to talk to each other about.
Crossing the street as dusk fell, we ran into Emily Noelle Lambert and a friend of hers, locking their bikes after a trip across the Brooklyn Bridge.
Before heading for the, literally, heavenly roof above I-20 Gallery at the top of the building, we wound up the day in Paul Rodgers/9W, where Orly Cogan had installed herself and two other artists. in a show which sometimes looks like the product of a loose collective. We've both really liked Orly's work for some time, most of it embroidered and painted images of a very, very sexy Eden on found fabrics whose faded decorations collaborate with her art. Mixing with the crowd: Ike Ude, Jonathan Feldschuh and Andres Serrano.
From the roof: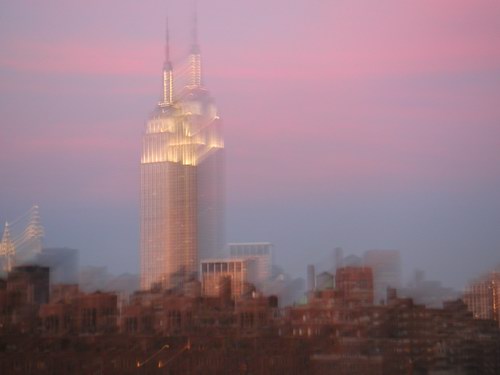 ttowers

PS, in the absence of material on the gallery site, I couldn't resist copying this older image of Orly's: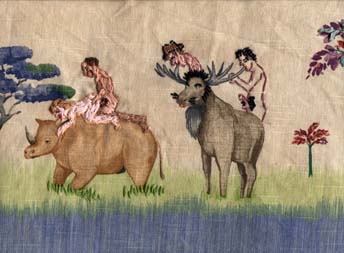 Orly Cogan, Garden of Earthly Delights, (detail), 2000 Fabric
[images of Phelps and Cogan from LFL Gallery]