Even when I try to just do a "culture" post these days I often find I have to add it to the "political" category as well. But it's a sign of our dangerous times, and if I have a complaint, it's about the times, not the signs.
Last night we visited the oddly festive, and certainly very social, opening of "amBUSH!" at the Van Brunt Gallery, recently installed on Washington Street in the former meat market district below 14th Street.
Historical note:

The clean, well-lit space occupies almost the exact site of the legendary 1970's-80's gay sex club, the Mineshaft.
In a routine which has become familiar in Bloomberg's New York, while we were with the crowd inside we were suddenly joined by several uniformed police (we seem to have a surfeit of these in the last few years, and especially this summer, but at least they weren't carrying assault rifles this time) who were very concerned about guests sipping wine outside the packed rooms and obstructing free passage on the sidewalk.
I never saw the police there on my rare visits around twenty-five years ago, but if they ever did make an appearance then, it would not have been the wine or the sidewalk which attracted their interest. On the other hand, decades ago there wouldn't have been a dozen miniature cameras documenting cops while they talked to the proprietor of the establishment. We love cameras.
The sensual goodies available last night, and available continuing through September 18th, were of a special kind. One of the show notices had announced, "The message of this exhibition is simple: Bush must go!" Some 36 artists exhibited twice as many angry works, with varying kinds and degrees of success, none of them leaving any doubts about their passion or commitment. For visitors who won't be satisfied with a passive political role even inside an art gallery, there are a number of participatory stations throughout the show. Raise some creative hell, or just tell the White House what you think.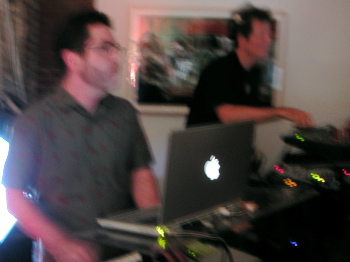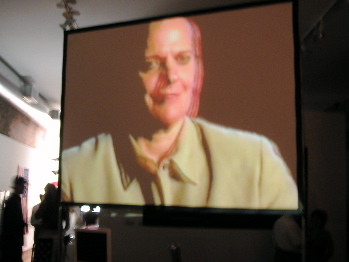 Some time after 8 o'clock an additional dimension was supplied by a musical and video performance, "TERRORVISION," created and performed by Bill Jones & Ben Neill.
First screened/performed at Exit Art, Spring 2004, it consists of four linked computers--a "Power Book band"--that merge Neill's three-belled, computer interfaced mutantrumpet, keyboards, and other instruments with live MIDI controlled digital video. They play the moving pictures to create "video remixes" breathing life into real-time and recorded video. Expect everything from deep ambient soundscapes to funky electronic breakbeats.
Exactly.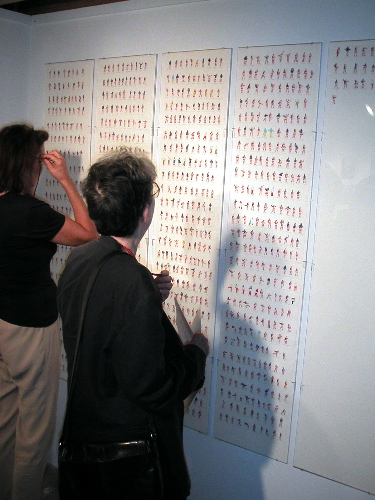 Elise Engler showed a pencil-drawing quintych, "Wrapped in the Flag," begun last year, which now represents 1087 dead soldiers in Iraq, although it's unfortunately a continuing work.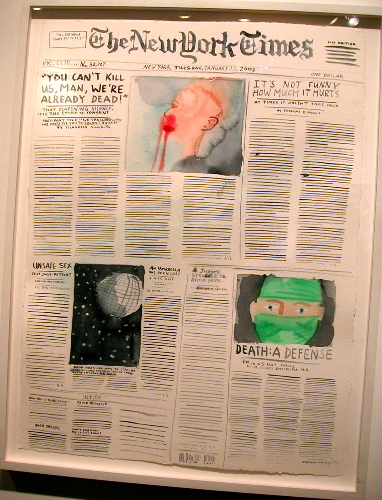 Guy Richards Smit included "You Can't Kill Us, Man, We're Already Dead," in a statement still obvious to only a few Americans.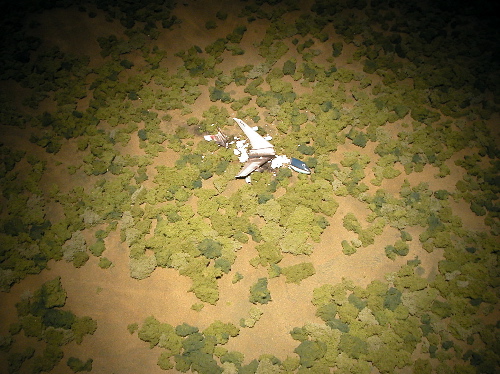 Associated Artists for Propaganda Research, with their installation, "The Black Box (Downing of Air Force One)," may be the most incendiary contribution. Phew.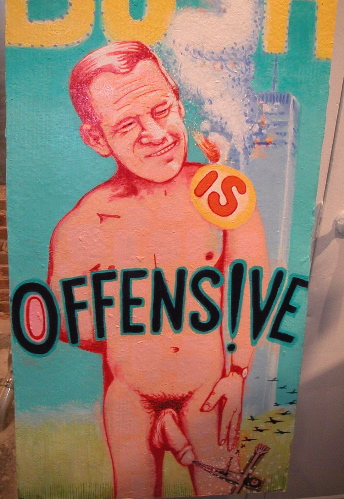 David Humphrey's cardboard sign, "Bush is Offensive," might be considered in arguable taste in some circles, but it will be eminently practical in others, especially this week and into the next: It's equipped with a convenient handle.