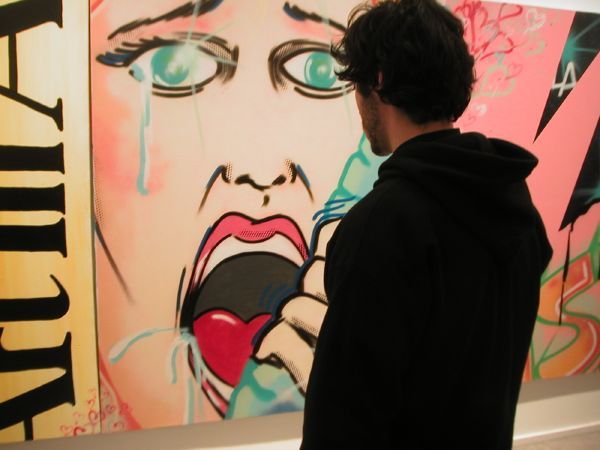 Crash (John Matos) Mass Media (1983) acrylic and spray paint on canvas, detail with admirer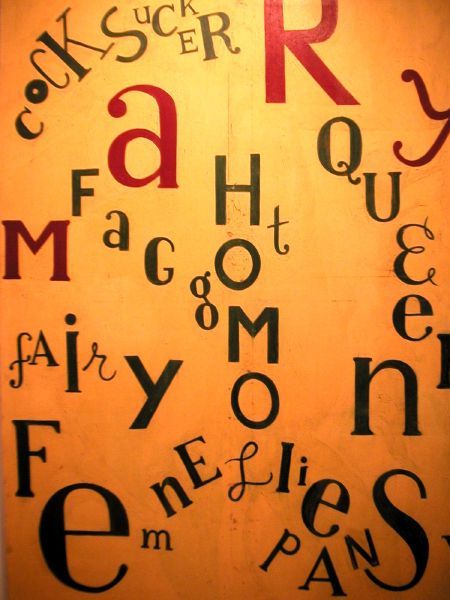 McDermott & McGough A Friend of Dorothy (1986) oil on canvas, large detail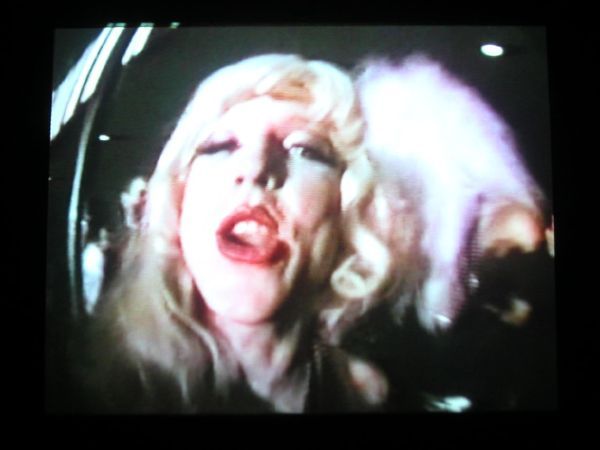 Nelson Sullivan My Life in Video (1982-1989) still from the video (Lahoma Van Zant)
"Imagine a village where everybody is an artist, nobody has or needs a steady job, and anyone can be the art world's Next Big Thing." The New Museum of Contemporary Art calls it "East Village USA." The real show closed years ago, but tomorrow the museum is giving us all another chance to go there, and for some of us it's a little like going home - once again without the complications of mom and dad.
This welcome retrospective of an entire exotic little world describes why I had to leave a very comfortable life in Rhode Island (no, mom and dad were not there). I just had to be in New York, even if it was going to be uncomfortable.
It doesn't just look like a museum, and it's not so very new or contemporary, but the show is a delight. I say it's not so museum-like because it's not just about the painters, sculptors and photographers who shocked and seduced Uptown spectators for a few years before success, or extraordinary wear and tear, erased the energy of a small age: A good part of the exhibition is devoted to the brilliant performance and club scene which was the environment in which the visual arts flourished - then as in every great creative era. Lots of video monitors are spread around the rooms, but this time they don't really screen video art or art documentaries. Even if so many of the little giants on those screens aren't around today, last night I preferred to imagine I was in a room next door watching their live performances remotely.
Some of my favorite things from the whole show (many of them real surprises) after only a preview peek: The work of Crash, Nelson Sullivan, Paul Thek, Arch Connelly, Peter Halley, Rodney Alan Greenblat, Sue Coe, Jimmy De Sana, Tseng Kwong Chi, Ethyl Eichelberger, Frank Moore and Jim Self, and Klaus Nomi.

ADDENDUM: Oh yes, there's at least one perfect installation, of a perfect Nan Goldin. I lay awake last night and again this morning, thinking about it. It's by itself on the wall of an almost totally darkened landing above a staircase heading down to the club-like installation of most of the performance videos. The photograph is lit from above like an old master in a wealthy collector's study. Worshipful.
CORRECTION: I had originally identified the lady in the video still as Christina, but Sullivan's archivist and editor, Robert Coddington, set me, well, straight.
[Nan Goldin link thanks to Charles T. Downey, via Bloggy]