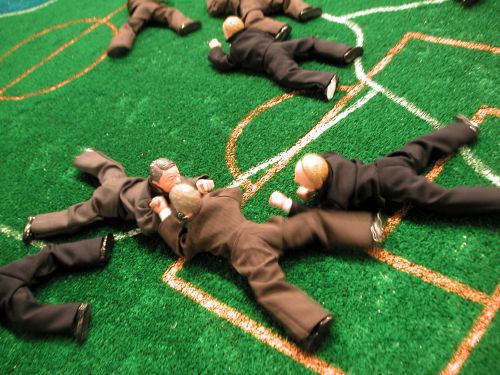 Momoyo Torimitsu Horizons (2004) mixed media, detail of installation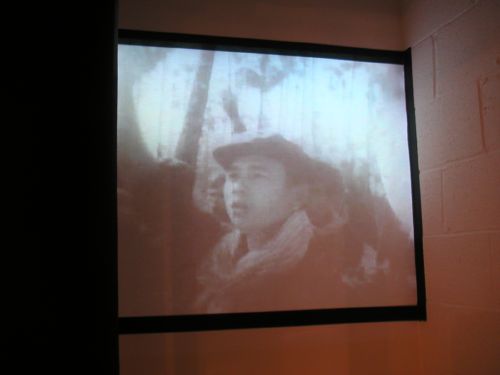 Robert Boyd, Patriot Act (Xanadu: A Place Where Dreams Come True) (2004) DVD, still from video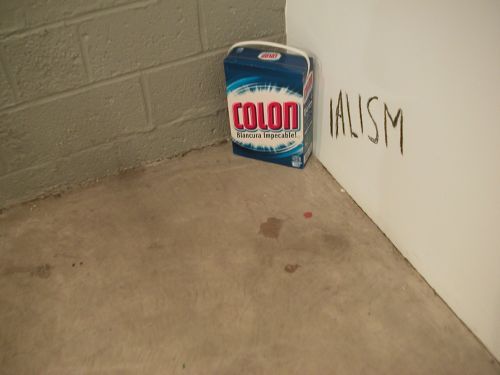 Riiko Sakkinen Colonialism (2004) mixed media, installation view
UPDATE (December 11): The show has been extended for another week, until December 18. And tonight, saturday, at 6 o'clock, the gallery will host New York Political Artists Town Hall Meeting #1 (NYPATHM1).
Only one more day to see how "Democracy Was Fun." The White Box show closes tomorrow, but the hangover will continue. This group exhibition, curated by Juan Puntes and Raul Zamudio, packs the kind of political wallop we've come to expect from this fearless little non-profit space on West 26th Street. But there are some outstanding pieces of art here as well.
I'm sure I'm missing a lot, but right now I'm thinking of the riveting and accelerative video by Robert Boyd, which manages to stop all traffic entering the gallery space; Jane Benson's camouflage garlands over the ramp running from the door; Tim Hawkinson's flattened rubber pachyderm "Seal"; Rainer Ganahl's outrage, in paper and ceramic, over the corruption of language and the death of dialogue; Riiko Sakkinen's inspired adaptation of the simplest found materials; Momoyo Torimitsu's field of tiny competing salarymen; and Conrad Atkinson's horrendously-exquisite porcelain land mines on the gallery's front windowsill.