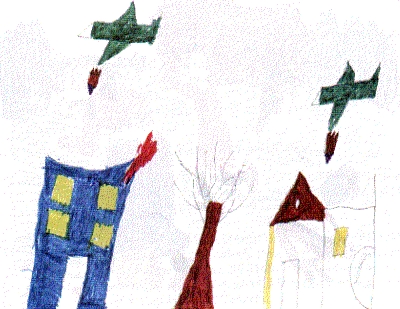 drawing from a pre-school Chechynan child
To Chechnya with art, with deep concern, and love too.
A number of artists from around the world have organized what they are calling the "EMERGENCY BIENNALE in CHECHNYA."
The extraordinary occasion, a work of conceptional art itself, will be inaugurated tomorrow, February 23, at 5 pm with a press conference at le Palais de Tokyo in Paris. Thereafter a suitcase filled with works, projects and concepts by more than 60 artists from all over the world will "hit the road," to be delivered in Grozny to a location yet to be finalized. The project is co-curated by Evelyne Jouanno and the artist Jota Castro with the support of the International Federation of Human Rights Leagues (FIDH).
Duplicates of the works and documentation packed in the suitcase sent to Chechnya will be displayed in Paris until April 23.
All kinds of information on Chechnya will also be presented [in le Palais de Tokyo]. Mylene Sauloy's and Manon Loizeau's films on daily life and culture of Chechens since the beginning of the first war in 1994 will be screened.

In addition, an internet post with webcam and direct access to the website created for the occasion - http://www.emergencybiennale.org - will do its utmost to connect with Chechen partners, to receive images and information on the suitcase and the organization of the exhibition in Grozny. A discussion forum will also offer an opportunity to react and exchange on the subject across and beyond all borders.

A publication is in preparation. It will comprise texts on the situation of human rights, some theoretical articles on art, political and social sciences as well as images of the various artistic projects.
[tip from e-Flux, image from sauseschritt, where it was accompanied by the text I've copied below]
terror und gegenterror in tschetschenien: aus einem 2002 veröffentlichten bericht (der russischen föderation und der republik chechnya) über die lage des Bildungswesens in tschetschenien stammen folgendes zitat und die kinderzeichnungen:
pre-school children were born and lived during war and continue to live in war affected situation. the psychological condition of children could be described by words and expressions like terror, reserved disposition, cautiousness in behavior with other adults, insufficient level of development of native speech, poor imagination, absence of variety of emotions ...
[my] English translation of the German above:
terror and counterterror in Chechnya: these drawings and the following quotation comes from an official report (of the Russian Federation and the Republic of Chechnya) published in 2002 on conditions within the Chechnyan education system: