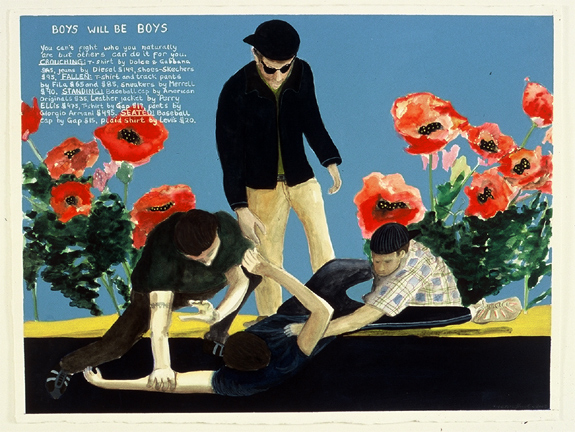 Carter Kustera Boys Will Be Boys 2004 gouache and mixed media on paper 22" x 30"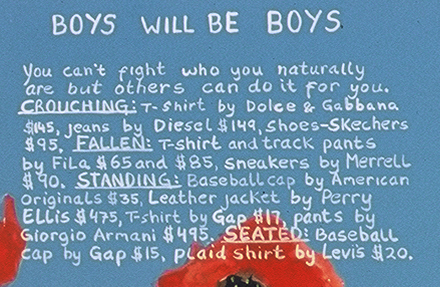 Boys Will Be Boys detail
Violence with a flair. In his current show at Lyonsweirgallery Carter Kustera finds a way to seriously address the commercial world's obsession with glamorizing violence without abandoning his own aesthetic - or his usual good humor.
The show is titled, "Fabulous Anger," and these provocative works on paper will be up until March 12.
The press release on the gallery site tells us how we can become be an integral part of Kustera's art and wit. He's also a really nice guy, which would be pretty relevant to those who can accept this offer:
Carter Kustera will also be featured in -scope New York from March 11th – 14th at Flatotel, 135 West 52nd Street. Kustera's "America's Most Wanting" is a body of work gleaned from personal encounters. These intimate works on paper are simple silhouettes that have quips about the sitter. These engaging antidotes utter volumes about the way people project themselves in public and how the public interprets them. Kustera will be available for individual portrait commissions during the run of the scope Art Fair.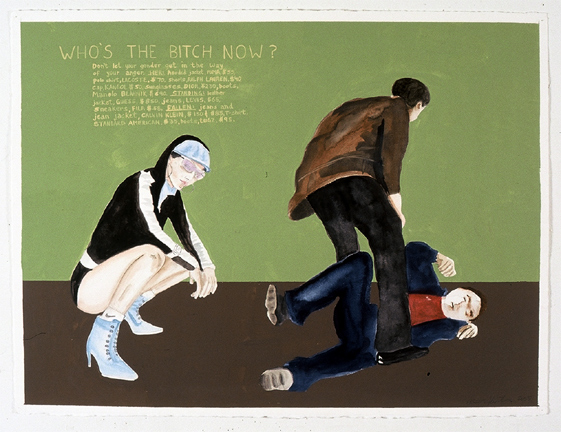 Carter Kustera Who's the Bitch Now? 2005 gouache and mixed media on paper 22" x 30"


Who's the Bitch Now? detail
[images from Lyonsweirgallery]