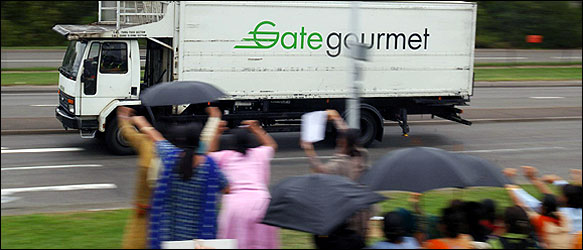 won't take it anymore*
Following up on my Heathrow mess post of August 14, I've just seen this shocking August 15 Daily Mirror news report, via a piece in today's NYTimes Business section. It reveals more about corporate thinking within Gate Gourmet than a complacent public might even have imagined, assuming it was interested in the first place. The Mirror on-line article begins:
EXCLUSIVE: SECRET PLOT TO SACK BA [British Air] CATERERS
-Recruit, train, check drivers -Announce to Trade Union -Provoke unofficial strike -Dismiss current workforce -Escort them from premises -Replace with new staff
Exclusive By Greig Box And Graham Brough

A CATERING firm's cynical plot to sack its Heathrow workers so they could be replaced with cheap labour was spelt out in brutal terms.

In a secret internal briefing entitled "Mile Stones" and marked "Confidential", BA's caterer Gate Gourmet declared: "Recruit, train and security check drivers.

"Announce intention to trade union, provoking unofficial industrial action from staff. Dismiss current workforce. Replace with new staff."

The shocking move was part of a 15-week timetable, first mooted a year ago, to provoke workers into striking so they could be replaced with cheap East European labour trained at secret bases.

A steering committee cited the top risk as "potential for wider Heathrow based disruption".

But if the risks were high, so were the rewards. The dossier forecast the £2.5million sacking plan would save up to £6.5 million a year.

An industry expert estimated there could be annual pension savings of up to £7million. US-owned GG made a £26million loss last year and is forecast to lose £25million this year.

Documents seen by the Mirror also prove that catering staff were to be lied to while BA and BAA were to be tipped off weeks before the plot went ahead. It is not known if the tip-off went ahead.

An insider claimed that action like that detailed in the leaked documents culminated in last week's crippling protests at Heathrow.
This thing is no small cheese, since Gate Gourmet is owned by a hungry multi-billion dollar buyout firm, Texas Pacific Group, interested only in short-term profit. What chance does a poor food handling employee have if the bottom line is at stake? It's not just a Republican nostalgia fantasy anymore: We really
have
regressed to nineteenth-century hotshot capitalism.
But this is 2005. We're told by modern management that labor unions present a reactionary presence in our new, post-industrial economy, and much of America seems to agree, but could there a better illustration of the necessity for an organized labor force than what has happened to these workers?
*
the Times caption reads, in part, "Laid-off employees at Heathrow Airport in London jeer a truck owned by Gate Gourmet" [date not given]
[Andrew Stuart/Associated Press image via NYTimes]