Brock Enright and Ivan Hurzeler [large detail of diptych still from installation]
Now that I have your attention I can talk up the incredible Brock Enright show installed at Cynthia Broan this month.
When I wrote a post a few days ago about his piece at the Armory Show I didn't know that his 29th Street presence was almost a solo effort and not part of a large group show: The gallery's announcement gives equal billing to Enright, Ivan Hurzeler and each of their dozens of collaborators. This is delightfully democratic and generous, but slightly misleading.
Every one of these intrepid souls deserves a medal, but it looks like Enright himself comes out of the experience with a new direction and quite possibly an entirely new genre of art. I couldn't begin to give it a name but I'm sure it will acquire one even if it isn't emulated.
The gallery includes an installation of the detritus of a five-day camping-trip-out-of-purgatory - if not hell - which took place last summer within a rather heavenly-looking park located barely outside of the city. Yes, of course it rained. The chaotic mix of youth, sex, sports, natural beauty, bodily functions and survival is alternately, or simultaneously, horrible and delicious for the observer who can survive its assault on his or her own personal demons. Ah, playing with food; who doesn't remember the thrills?
Let's just say it's not "Midsummer Night's Dream" but I am thinking about Shakespeare as I'm writing this. I mean, we can't expect faeries in the forest of Pound Ridge, so, hey, . . . maybe?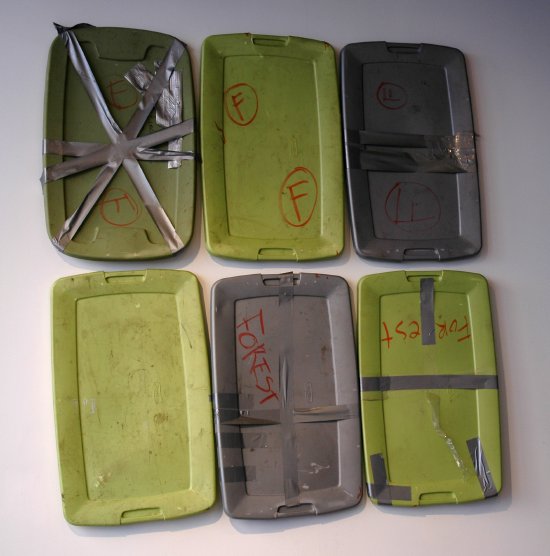 The large collection of messy relics is dominated by sports and cheerleader uniforms and their paraphernalia, as well as empty beer cans and food packets, but a select few pieces are assembled into some striking, almost traditional floor or wall-mounted sculptures.

Some certainly less traditional than others.

There are two videos, one a diptych, plus a short loop on a TV which sits in the midst of trash carted back from the campsite.

A letter pinned to a side wall is almost totally inconspicuous. It's something like a bread-and-butter note from one member of the weekend tribe all the others, addressing each separately in short gushing tributes, some rememberances more intimate than others. The signature at the bottom has been scratched out.
Finally there's [the] "Forest" itself. It's a 50-minute film running continuously behind a curtain in the rear of the gallery. It's described as a collaborative project by Enright and Hurzeler and it's a stunner, but the large cast (see the press release) was clearly not just reciting lines and standing on chalk marks. Thanks, guys.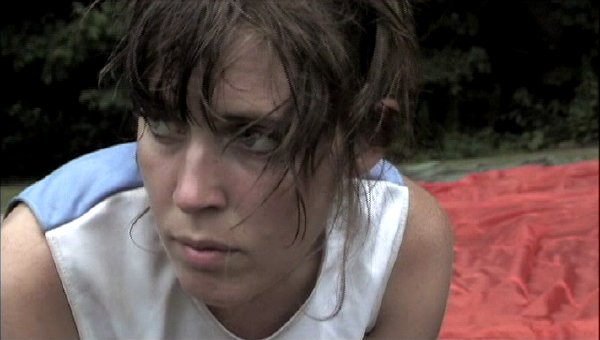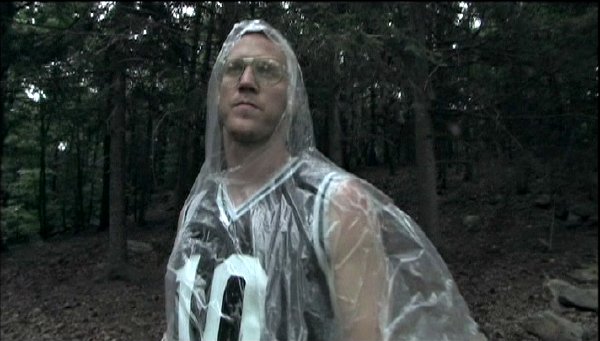 [the two stills from "Forest" are captured from a DVD]