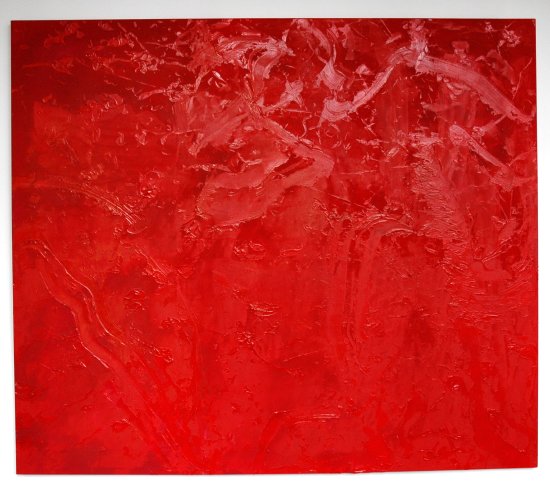 Dona Nelson Untitled 2004 acrylic on canvas 69" x 80" [installation view]


[detail]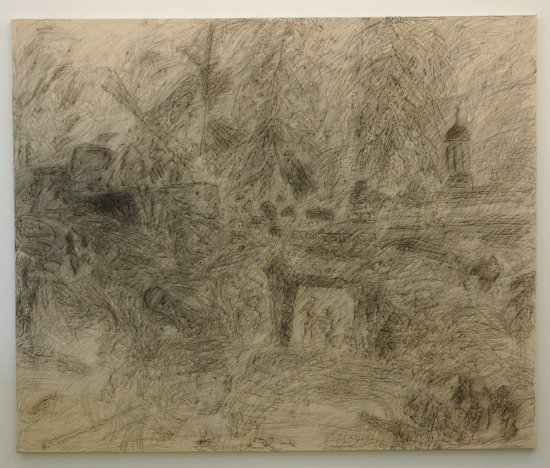 Dona Nelson Walnut Way 1999 charcoal on canvas 88" x 106" [installation view]


[detail]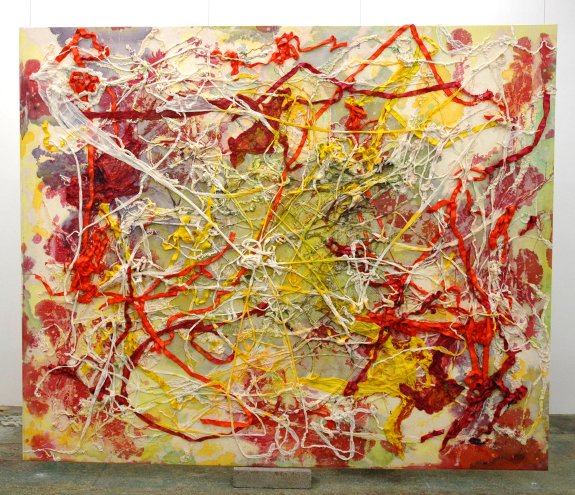 Dona Nelson Gaucho Groucho 2005 acrylic and cheesecloth on canvas 88" x 106" [installation view]


[detail]
I think it's a great show. I went into Thomas Erben's gallery this afternoon pretty much ignorant of the work of Dona Nelson, although I knew enough to realize that was a lamentable admission. Nearly an hour later I left her brilliant installation, "Brain Stain", very impressed, also thoroughly charmed, and wanting to know more.
The work could speak for itself in any environment, but I have to say something for the installation: It manages a huge success of its own, balancing the paintings in the way normally only a good museum show can, while accomodating the fortunate visitor's access to both sides of two of her extraordinary double-sided canvases.
Five years ago Roberta Smith wrote in her review of the artist's solo show at Cheim & Read that "Ms. Nelson is painting up a storm." The end of her last paragraph, ". . . these works suggest that the dead horse of modernism still has plenty of kick." could have been written for the current show.
I was told that Nelson was fully responsible for the installation herself, so perhaps I should ask her forgiveness for giving the priority of location here to the untitled red (very red) painting hanging in the project room behind the main space.
Check the gallery's press release for more about the artist's technique and some "performance" notes, but if you are in the New York area and you find what you see here the least bit seductive you really should visit 26th Street in person.