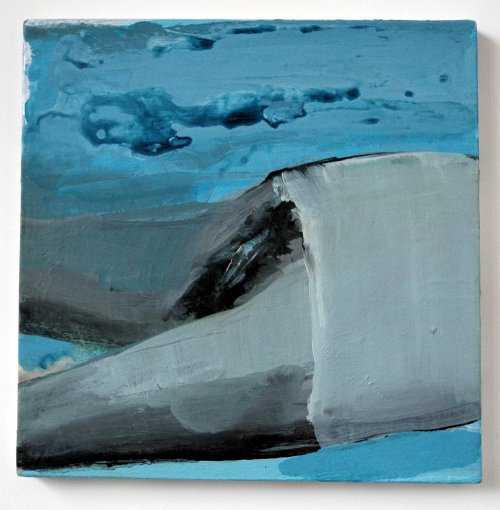 Haeri Yoo Untitled 2006 acrylic and gouache on canvas 12" x 12" [installation view]
While I was in Thomas Erben's gallery yesterday I couldn't help thinking about the fact that I was looking at the work of one established artist, one just beginning to be recognized and sought, and a third who has hardly been seen at all. Only while I'm writing this now do I also notice that each of these artists is a woman.
The artist who is becoming increasingly visible is Chitra Ganesh, and she deserves even more than all the goodies that have been said about her. The underknown artist is Haeri Yoo, whose small drawings Barry and I first encountered in the Queens International two years ago.
I had not seen anything of hers on canvas until yesterday, but if this very beautiful small figured "landscape" is representative of what she can do, I expect my earlier enthusiasm to me more than just renewed if she contiues to work in this medium.