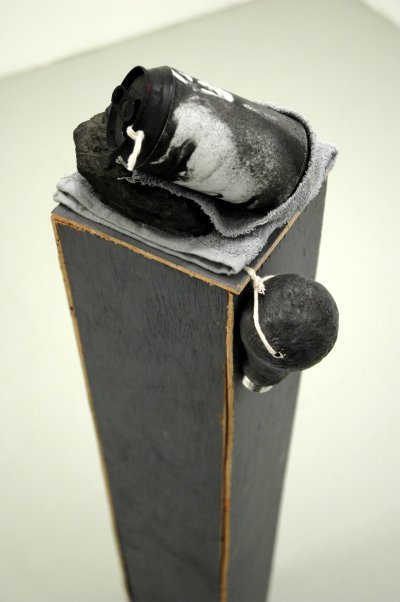 Paul Lee Untitled 2006 mixed media 42" x 6" x 6" [installation view]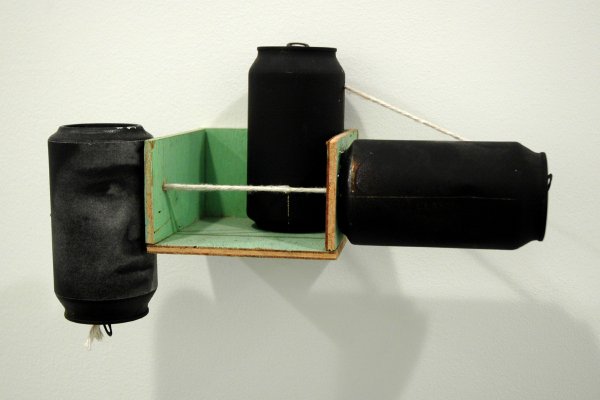 Paul Lee Untitled 2006 mixed media 18" x 8" x 3" [installation view]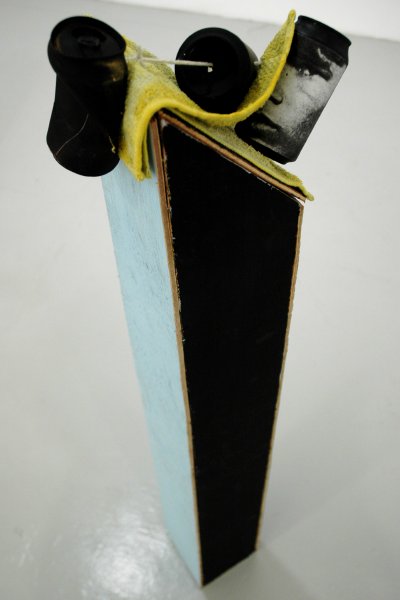 Paul Lee Untitled 2006 mixed media 50" x 11" x 6" [installation view]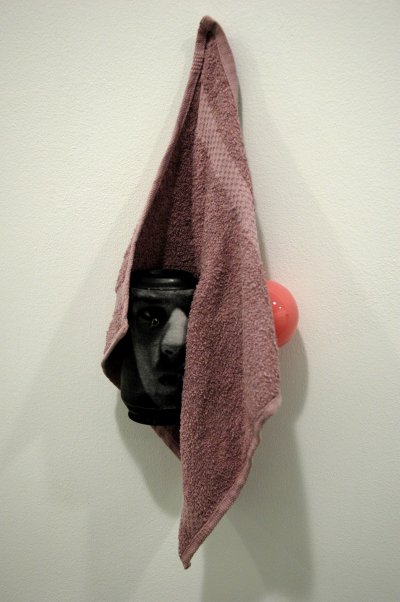 Paul Lee Untitled 2006 mixed media 10" x 11" x 7" [installation view]
If you've been looking at New York gallery reviews over the last few weeks you probably already know that Paul Lee's show at Massimo Audiello is a big hit, but you may not have seen enough good images to understand what all the fuss is about.
Here's an excerpt from Holland Cotter's review in the NYTimes:
Not to exaggerate the comparison, but it is possible to see the small assemblages in Paul Lee's first New York solo show as heirs to Robert Rauschenberg's early sculptural "combines" of the 1950s. The work of both artists takes debased found objects — junk — as primary material, and uses that material to create layered, enigmatic meanings. A big difference is that a homoerotic content suppressed in Mr. Rauschenberg's assemblage is the primary content of Mr. Lee's.

. . . .

Gay coding, through dress, language and behavior, has long been a protective necessity, a cultural binder and a source of pleasure, in art no less than in life. Mr. Lee, born in London and in his early 30s, explores such coding, and gently prods its mechanisms without fully exposing and demythologizing them. He gives us the props associated with certain erotically charged environments — back rooms, baths, parks — but also preserves a quality of hiddenness, of mystery.
The exhibition includes "washcloth paintings" and collages as well as more sculptures like those shown here, but it is the more three-dimensional work that seems most fully developed. Joshua Mack's earlier
Time
Out
New
York
review
is what actually impelled my visit to Audiello:
Cans printed with images of male faces are positioned so they seem to glimpse each other obliquely. The collages suggest the cultural taboo of men looking at men, with marbles in place of eyes and faces fractured into multiple planes.

Neither the collages nor the mutely colored towels are visually complex enough to surmount such conspicuous allusions to homoeroticism. The sculptures, however, have a formal lyricism that gives them a metaphoric impact. For example, a string that connects images of eyes and fingers implies the fragile intimacy of male interaction in societies that demonize desire.
These four shots taken during a November 25 visit to the gallery (I did write recently how far behind I've gotten) may help explain what we're talking about.