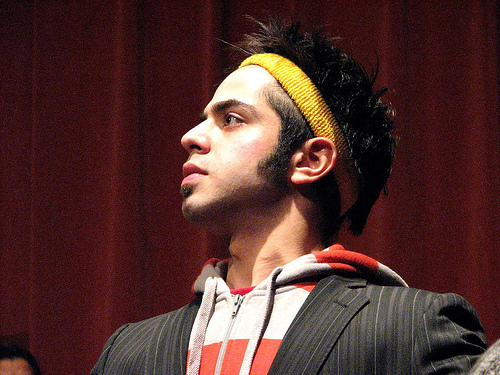 Satya Bhabha as Theseus, King of Athens
Barry and I have been going to productions by David Herskovits and Target Margin Theater from its beginnings, in 1991. I have been challenged, provoked, charmed, frightened, amused, confused and very often almost totally baffled, but before seeing the company's current production, "As Yet Thou Art Young and Rash", I didn't expect a TMT performance to make "perfect sense" to me. Well, maybe still not perfect, since that would imply the kind of tidiness normally reserved for Broadway and what I will call the theatre of small expectations.
Target Margin approaches its material (the classics of literature, revisited, reimagined, reignited) with the same kind of respect and irreverance which the Wooster Group now has made familiar to an entire generation of adventurous audiences, but mostly without the older troupe's snazzy electronics.
"Young and Rash" is an adaptation of Euripides's "Suppliants" which was penned (?) exactly 2430 years ago. I first became enamored with at least the idea of Greek drama while watching grey and white productions on early television, some of them live. Later I spent a lot of time in dark "art house" movie theatres and there I fell in love with Irene Papas and the violent world carved from her dark sculptural brows.
But now I inhabit what is called, with some arbitrariness, the twenty-first century. If I'm really interested in what the Greeks had to say I should be interested in listening to what it might have sounded like to the Greek audience. No one can reproduce the society whose audiences were first to support a Western theatre, but perhaps we can try adjusting the ancient plays to the society we have.
For me Herskovits and his collaborators have succeeded in making Greek drama not just dramatic, but totally real - for the first time.
The late, wonderful and much-loved scholar Paul Schmidt maintained that when it came to older literature in an alien language every generation absolutely needs its own translators [I never asked him how we should deal with older literature in what is supposed to be a familiar language]. Herskovits had the TMT cast begin by working with seven English translations of "The Suppliants", and later each began to introduce her or his own art into the dialogue, deliberately absent any perfectly-memorized lines, with each speaking more or less freely in the words and in the manner he or she found comfortable. Later the director, the writer, and the dramaturg [two of them at home with classical Greek] re-crafted the text to include the wealth of this contemporary vernacular. It's no longer just Euripides, but apparently nothing in "Young and Rash" is not in the original play, and I believe nothing has been taken away.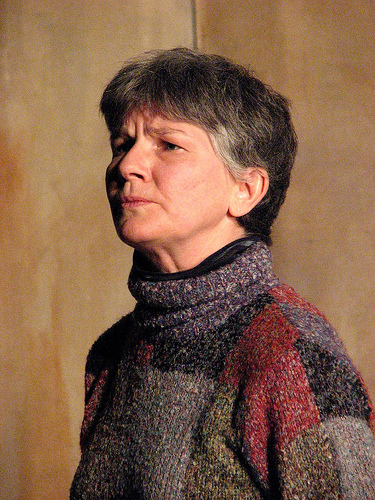 Mary Neufeld as an Argive mother, suppliant before Aethra
The costumes are also of our own world. In fact Herskovits suggests that we might recognize the almost deliberateley unstylish, comfortable clothing worn by American mothers when they are demonstrating for the return of their own sons - or some accountability for their bodies, and the bodies of other mothers' sons. This play is fundamentally about loss, and loss has no age and no geography. "Where's that woman going off to, carrying a crazy sign like that?"
The not-so-incidental music of this production belongs to us as well: In one example, we hear the plaintive strains "Home on the Range" used to evoke the comforts of an absent familial hearth. We shouldn't expect the heart strings of a modern American audience to be pulled by whatever a composer might come up with to represent music in the ancient Greek mode.
The result of what must have been a time-consuming, very intense but undoubtedly thrilling collaboration is, I suppose, . . . still quite odd. But if it is odd, it's odd in a way which should basically be familiar to an audience in a very odd world.
The wonderful cast, each member of which inhabits multiple roles, is very handily described on the program by costume:
Satya Bhabha (wears suit)*
Mia Katigbak (wears skirt)
Mary Neufeld (strums guitar)
Tina Shepard (grey sweatshirt)
Stephanie Weeks (long white beard)
Surprisingly, or so it certainly seems to me after fifteen years, this is actually Herskovits's first venture into Greek drama. I'm really looking forward to the next one, and the one after that; they've already been
promised
.
*
in a totally riveting debut appearance with Target Margin
[images by Hilary McHone provided by Target Margin]