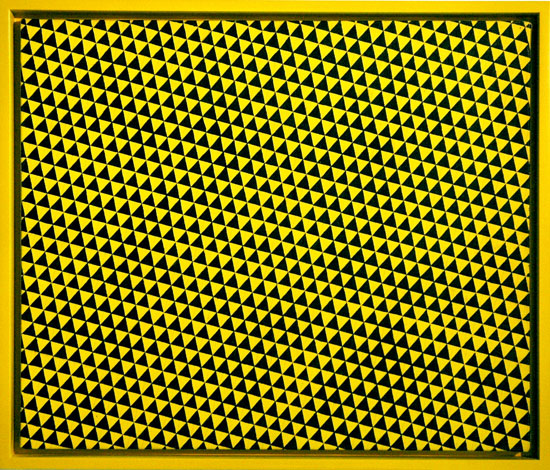 a small Yayoi Kusama painting from the mid-sixties (less than 2' square)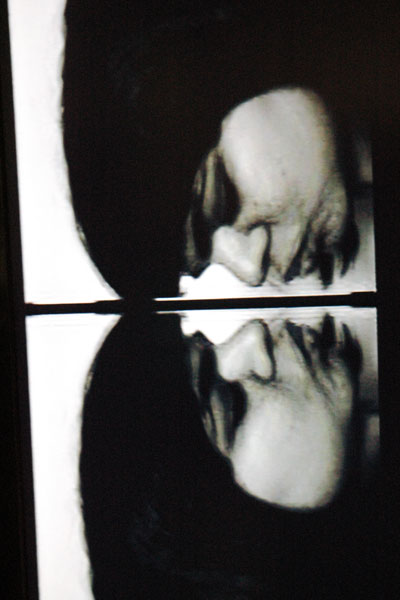 Sonia Khurana Lone Women Don't Lie 1999 video [large detail of still from installation]

Mekhala Bahl Ramp and Slide acrylic, ink and collage on printed canvas 60" x 60.5" [large detail, including reflections on plexiglas]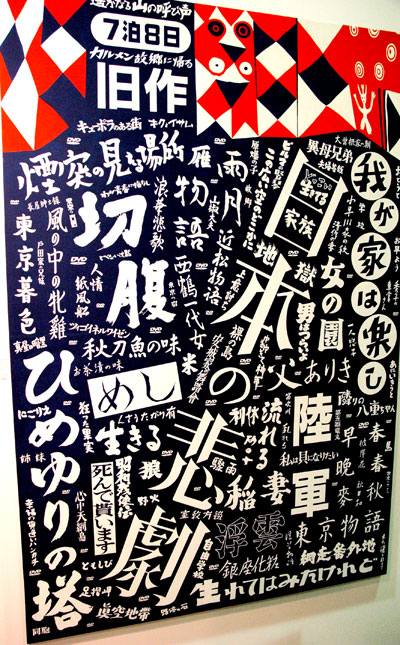 Junya Koike Japanese Movie/Japanese Tragedy 2006 (approximately 5' high) [large detail of installation]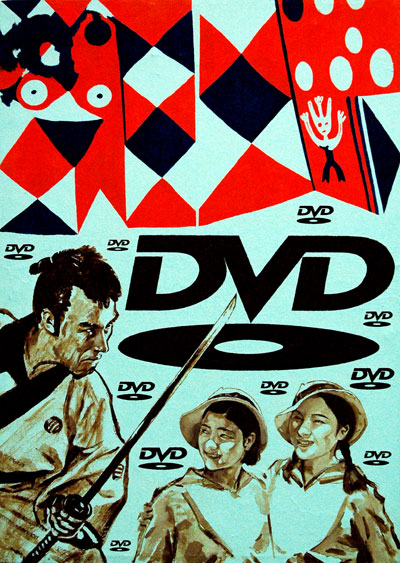 Junya Koike Japanese Movie/Yae-chan, the girl next door and TANGE Sazen 2006 (approximately 1.5' x 2')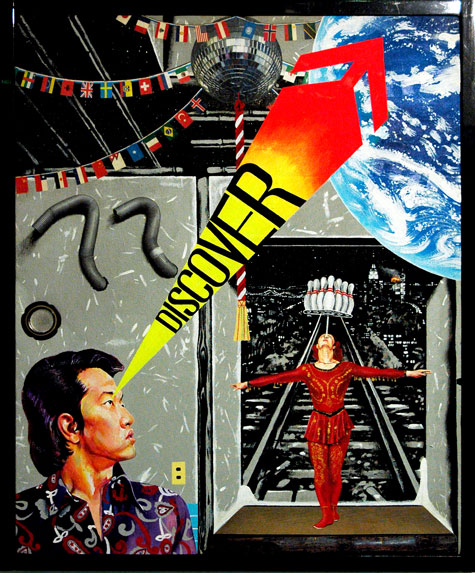 Junya Koike "DISCOVER JAPAN" 4 2001 (approximately 2' square)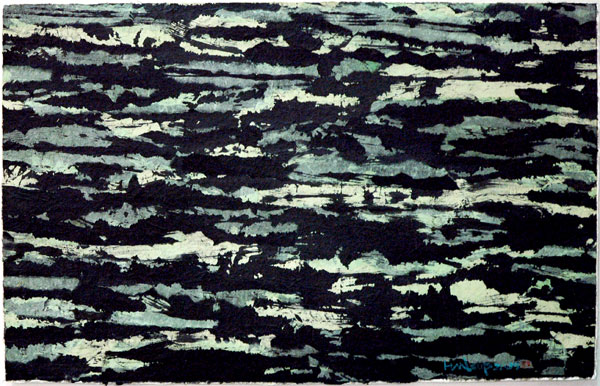 work on paper by Young-Sup Han (approximately 3' wide)
I want to see everything, because my interests are pretty broad, but I'm getting better at "filtering" the work I engage with when visiting large art fairs. Even in the outside world I've always been able to make myself pretty much blind to anything visual that doesn't please me (unless I decide I have to look). For an arguably-too-sensitive guy huddled inside this pretty tawdry and often incredibly shoddy modern American civilization, I think it stems largely from an instinct for aesthetic survival. When it comes to the specific environment within art exhibitions, or even the pattern of a long afternoon going from one gallery to another, it's more a simple matter of the triage required by calendar-keeping and blogging obligations.
My visit to the Asian Contemporary Art Fair is a good example of what I'm talking about. I really don't remember much about the bad stuff, but in this post I'm sharing a few of the more memorable things I did come back with.
The attractive booth of Bill Brady's ATM gallery (New York) near the entrance had the dazzling piece by Yayoi Kusama shown above. I remember first being introduced to Op Art in 1963 by an artist friend studying in Munich while I was there myself under a DAAD fellowship. It was very exciting, and it was also like being a privileged initiate in a new cult. Now over forty years later I have to say this piece looks better than anything I saw then or since. It's an alien life form which positively shimmers inside its handsome yellow box.
Gallery Espace in New Delhi was to me one of the best exhibitors in the show, if not the best. My favorite works were the videos and video stills of Sonia Khurana* (Barry and I both love this artist), the paintings of Mekhala Bahl, and the photographs of Ravi Agarwal.
Junya Koike was represented by Tokyo's Gallery Yamaguchi. The large graphics of "Japanese Movie/Japanese Tragedy" was what first attracted me, but the smaller pieces with film and invented images are just as successful.
The Seoul-based gallery Chosun had a few very beautiful paper abstractions by Young-Sup Han. I was as least as much interested to two smaller monochromatic pieces; I'm not showing them here only because they were hung very high and my photographs were disappointing.
Among the other works I remember well were a very impressive Mannerist Wei Dong in the Goedhuis booth (New York, London, Beijing); u-fan Lee's delicate drawings at Jean Art (Seoul) and Wool Ga-Choi's delightful small oils, each titled "for enjoy play", also at Jean Art; the intense, compulsive beauties of Anil Revri's canvases at Sundaram Tagore (New York); and Li Luming's small, gray Richter-ish paintings at Alexander Ochs (Berlin and Beijing).
And then there was the "Simulasian" exhibition, a very interesting show within the show, curated by Eric C. Shimer and Lilly Wei. There I saw Ataro Satu's large paper drawing installation (courtesy of Mehr Midtown), Ran Hwang's huge pink Buddhist wall sculpture (courtesy of 2 X 13 Gallery), Chitra Ganesh's wonderfully-disturbing mixed-medium-on-board pink and blue goddess (courtesy of Thomas Erben), some more Yayoi Kusama, and much more.
Oh, a reminder to those who can take advantage of it, tomorrow is the last day of the fair. It's open from 11 to 5, and on this day it's totally free.
And an editor's note: Assembling this post would have been much easier, and the information more complete, had I been able to take home a catalog Thursday night. They had run out by the time we left; we were told they would put one in the mail, but that was no help in the meantime. I thank my hard-working digital camera for its excellent note-taking skills almost every day of the week, but it can only record what the label tells it - and that's if there's a label.
*
Khurana will be part of what is sure to be a fascinating show at Elga Wimmer opening on Tuesday in Chelsea. "Out of the Box: Body Related Performance Art After Carolee Schneemann" includes work by Schneemann, Heide Hatry, He Cheng Yao, Minnette Vari, Regina José Galindo and Khurana.