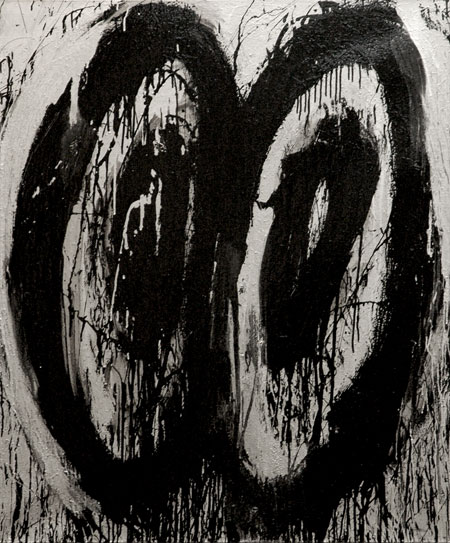 Joyce Pensato The Drippy Droopy Eyes 2007 enamel and metalic paint on linen 48" x 40"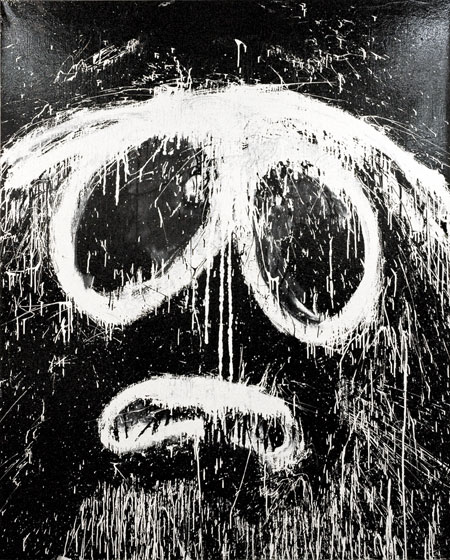 Joyce Pensato Evil Stan 2007 enamel on linen 90" x 72"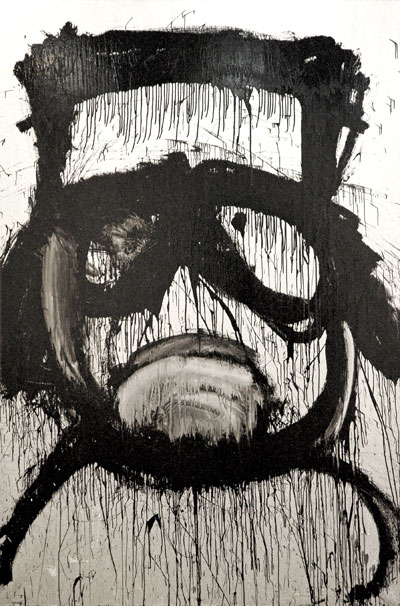 Joyce Pensato I Don't Want to be Tamed 2007 enamel on linen 108" x 72"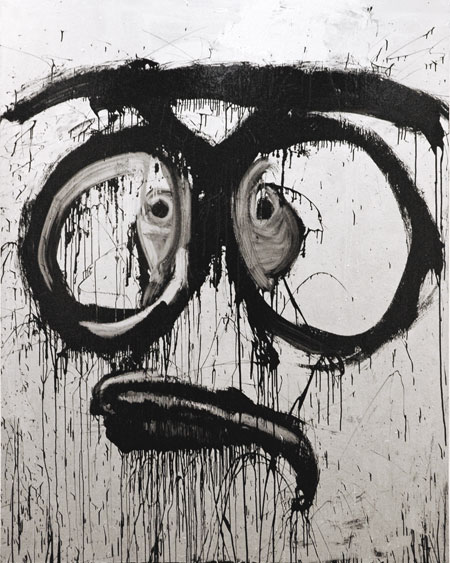 Joyce Pensato Psycho Killer 2007 enamel and metallic paint on linen 90" x 72"


[detail]
Joyce Pensato is back in Chelsea. I first came across her work in the early nineties at Bill Bartman's Art Resources Transfer. She had donated some wonderful drawings to this legendary non-profit gallery's annual benefits. They are still among our very favorite things.
Around this same time I spotted a silver and black, medium-sized canvas by the artist at Max Protetch's gallery. I had missed Pensato's show at the gallery, but thought this piece was just about the most exciting thing I'd ever seen. I agonized for what now seems like forever over whether I could cover the gallery's more-than-fair price. Unfortunately my answer was no, but deep down I knew even then that I'd always regret not swinging it somehow. Since then Pensato has shown in Elga Wimmer's Chelsea space, installed her studio inside Exit Art for a while, and appeared in a number of galleries in Brooklyn. I don't think Barry and I have missed any of them. She's also had solo shows all over Europe, but she hasn't really been attached to a Manhattan gallery since the nineties.
Until now. Friedrich Petzel has invited her in to mount a show of large paintings in the larger of the gallery's two spaces on West 22nd Street. These twelve canvases are spectacularly alive, whether seen from across a room or inches away from their surfaces. I've always thought of her work as belonging to abstraction, although of course every piece, whether a drawing, a painting, a sculpture or a mural, begins with some iconic American cartoon character.
I don't really know why American collectors, curators and museums haven't already gone crazy over Pensato's work. I hope it doesn't escape them this time. I don't normally think of the domestic market for contemporary art as particularly naive or conservative, but I suspect that if she isn't considered marketable enough it may stem from some weird combination of, on the one hand, collectors' disdain for what they mistakenly dismiss as a hackneyed choice of cutesy subject and, on the other, their fear of the frightening, even perverse directions in which she seems to take them.

Pensato seems to aim for an ambiguity which balances cuteness and horror. She succeeds over and over again, without ever repeating herself.
Painters have loved her for years and the museums will parade her tomorrow. More people should see her today.
Over the years I've become increasingly fond of Pensato's works on paper (or tortured sheetrock, in the case of many of her murals), partly because of the bits of color which manage to creep into or peek out of the black and white or black and silver sweeps of charcoal or paint, and partly because they so satisfyingly boast the artist's characteristically-vigorous, even violent erasures. It's interesting that there are no examples of either medium in this show, although the title, "The Eraser", alludes to physical operations which are less evident in the paintings.
Go now for the paintings; come back for the drawings I hope the gallery will show next.