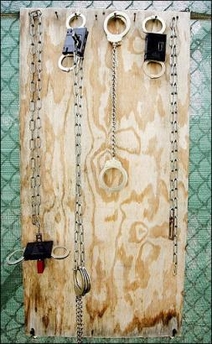 no, unfortunately this image is very real, and not Trompe l'oeil [the Yahoo! News caption for the picture begins: Leg irons and hand cuffs hang on a board at Camp Delta at Guantanamo Naval Base in Guantanamo, Cuba, in 2004.]
*
So reads the headline on the lead story on the BBC at the moment. The attribution for the description of the deaths of three prisoners in our Cuban concentration camp is the United States Deputy Assistant Secretary of State for Public Diplomacy [my italics].
Colleen Graffy told the BBC the deaths were part of a strategy and "a tactic to further the jihadi cause", but taking their own lives was unnecessary.
We're expected to listen to our "public diplomat" explain their deaths as a bad career move, but we aren't allowed to know who any of these folks are?
[news tip from Barry; image, credited "AFP/Pool/File/Mark Wilson", from Yahoo! News]