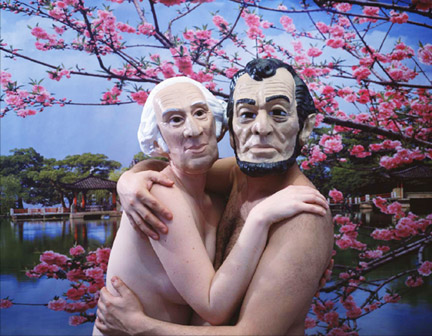 Yasser Aggour George and Abe 2003 C-print 30" x 38"
It's a wonderful riff. Frederieke Taylor Gallery has mounted a [is it ever going to be possible to write, "strangely compelling" again?] show with the title, "Paradise Lost". The press release explains that the installation was:
Curated by artist Dan Tague, one of many artists forced from their homes by Hurricane Katrina. Temporarily relocated to New York, Tague has put together a show in an attempt to process this disaster. Combining artists from the Gulf Coast with artists from New York, this exhibition seeks to establish a dialogue about the loss and recreation of a paradise. Artists include: Yasser Aggour, Christine Catsifas and Kyle Reidel, Michelle Elmore, Sarah Emerson, Amy Finkbeiner, Rebecca Fuchs, Daphne Loney, Mike Peter Smith, Dan Tague, and Letha Wilson.
The above image by
Yasser Aggour
appears on the announcements for the show, and it managed to mesmerize me in a smaller format even before I realized the conceit involved. Somehow I had missed the title and the clearly
plastic
heads. I had taken the picture literally, believeing that it recorded the affection sustained by an elderly couple, a bit eccentric to be sure, but obviously proud of their public nudity.
Barry and I acquired a magnificent piece by Aggour shortly after September 11. A brilliantly-transparent, chartreuse resin frame molded from a baroque form encloses a photograph of a Jewish Virgin and child in a creche found in officially-atheist Cuba; the artist's family is from Egypt. I would worry that I'm making too much of these things except for the fact that the piece was included in a shamefully under-subscribed benefit for the Palestine Ambulance Society at White Box. Apparently even the art world thought it was the "wrong" cause, but Aggour's work immediately became and remains one of our great treasures.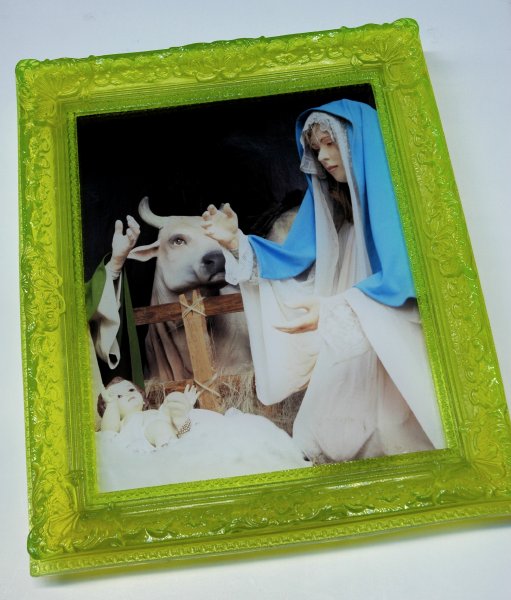 Yasser Aggour Untitled (Cuban Virgin) 2002 digital print with polyester resin frame [collectors' installation image]
[image at the top from Frederieke Taylor]