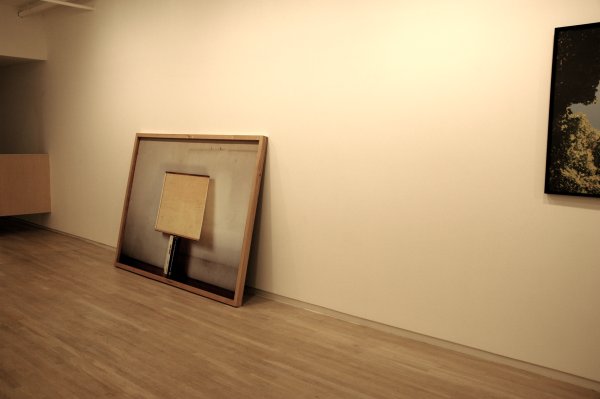 [detail of gallery installation, including a portion of Hewitt and Keegan's shared "Desk Reflection", Hewitt's "Make it Plain (4 of 5)" and a portion of Keegan's "Skypocket"]
Wallspace has installed an inspired, minimal show of extraordinary elegance. In the gallery's two spaces, which together mount only nine works, the walls and floors are shared by Leslie Hewitt and Matt Keegan, and at least two or three of the pieces are likely to totally escape the notice of visitors not clued into their conceits.
I found that a cold call had its own rewards, but following it up with a look at the press release provided some enlightenment - and additional provocation. The first lines of the text:
"From You to Me and Back Again" is a project proposed to Wallspace by Leslie Hewitt and Matt Keegan that explores the "nature" of the photographic medium.

Incorporating the floors, walls, and the corners where they meet, Hewitt and Keegan use the gallery space as a site to continue a five-yearlong conversation about photography, its abstractions, politics and subjectivities.