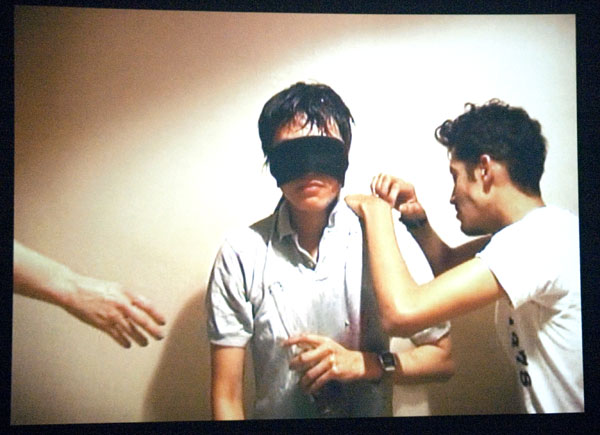 Cathy Begien Black Out 2004 single-channel video, audio on DVD [still from installation]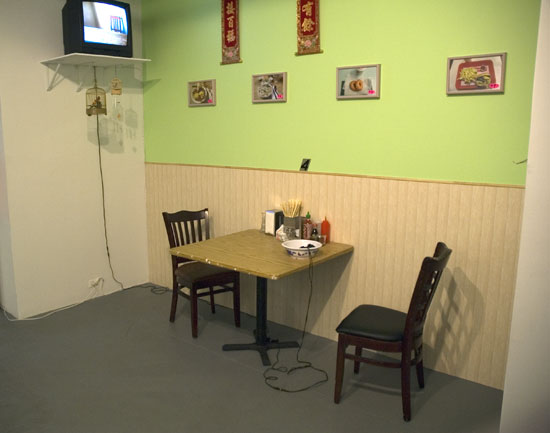 Cathy Bergien My Favorites 2004 single-channel video, audio on DVD [large detail of installation including artist's props]
We did make it a top pick on ArtCal, and everyone seems to love it. The show runs for only one more day, so at least some of you still have a chance to see Cathy Begien's terrific work at Winkleman Gallery.
A description of two of the artist's three installations excerpted from the gallery's press release:
In turns hilarious and devastating, ["Black Out"] features the artist (blindfolded and seated facing the viewer) retelling of a heavy night on the town with her friends. The narrative is delivered rather monotonously as several people continuously hand her drinks, cigarettes, and other props, acting out the evening's excesses. As the story grows ever more messy, however, the stark set and low-budget production values serve to balance the overwhelming heartache of the episode's climax, offering the viewer a rare, but safe, window into a raw, exquisitely sincere sentimentality.

In the second installation, Begien recreates the interior of a home-style Vietnamese restaurant as the setting for her video of her continuously eating her favorite foods. The obsessiveness suggested by her systematically eating meal after meal stands in stark and funny contrast to the cheesy furniture and menu photos of the referenced eatery.