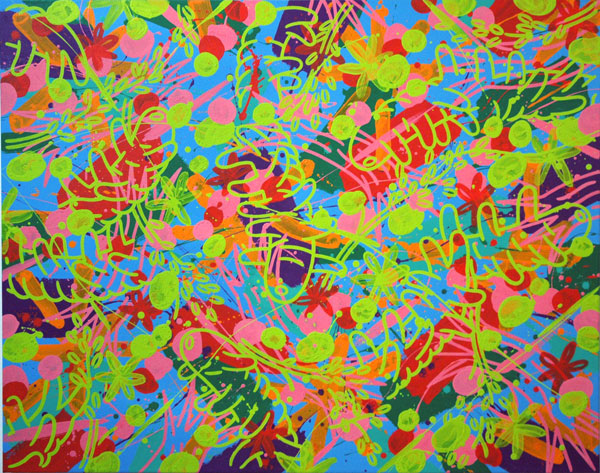 Jesse Lambert Soft Shelled Vehicles 2007 acrylic on canvas 38" x 48"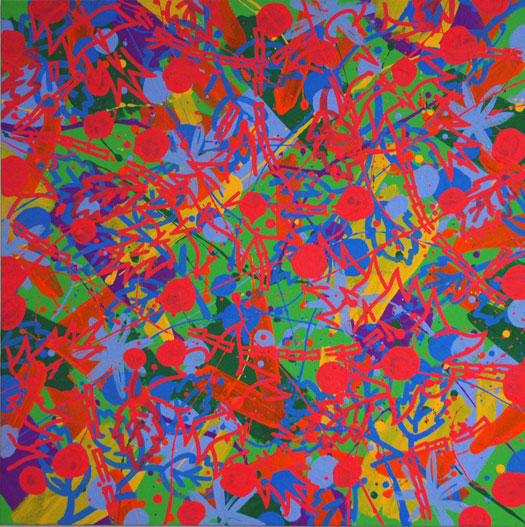 Jesse Lambert Tropical Shale Shatter #1 2007 35" x 35 "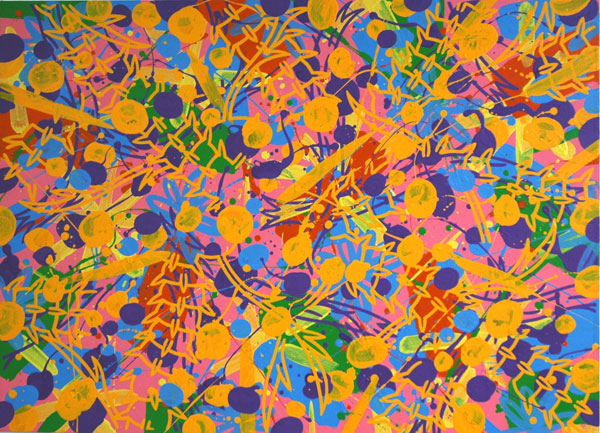 Jesse Lambert Segments and Broken Tubes 2006 32" x 44"
Barry and I first saw Jesse Lambert's work when he was included in a small group show curated by the excellent Lauren Ross at White Columns in the fall of 2004. We were very fortunate to be able to be part of a reception where each of the invited artists described her or his work and we were particularly charmed by his gentle presentation, by the simple ordinariness of his [almost-abstract] subjects and by his explanation of the color combinations he had chosen (basically, as I recall it, Lambert tries for the most unlikely, most improbable or most difficult combinations possible).
It may only be coincidence but today the artist's subjects are even more closely related to his palette than ever before: Lambert has been scouring volumes of esoteric printed biology material for both information and inspiration. Most if not all of the latest paintings now incorporate the shapes of micro-organisms which are not the least bit restrained about calling attention to themselves when subjected to the lens of a scientific instrument. Lambert brings this world closer to the rest of us with these luscious acrylics (and these gorgeous gouache drawings as well).


[studio corner]
Last December at the Wagmag benefit in Williamsburg we were delighted that his generosity to the Williamsburg art community helped to make one of his paintings our own, and two weeks after that we found ourselves in his Long Island City studio because we had decided to see and learn more about what he is doing now. The images of these rich garden carpets which I show here came back with me from Queens, but there is much more on his site, including a visual chronicle of his work showing how it has developed over six years.
Lambert is currently in a small group show, "BROOKLYN ABSTRACT", at [email protected] Trading in Williamsburg, where he is represented by two terrific and quite recent canvases. (this large space on North 8th Street has recently been very nicely cleaned-up and now looks like a proper European Kunsthalle)