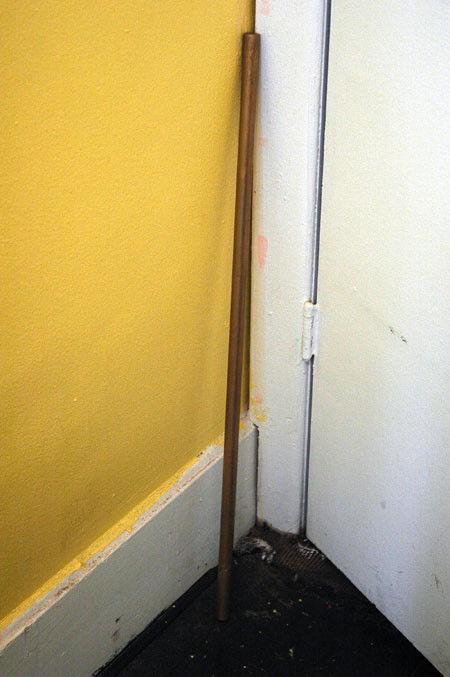 Jeffrey Tranchell Gold Bar 2007 enamel on wood 3.25" x 32" [installation view]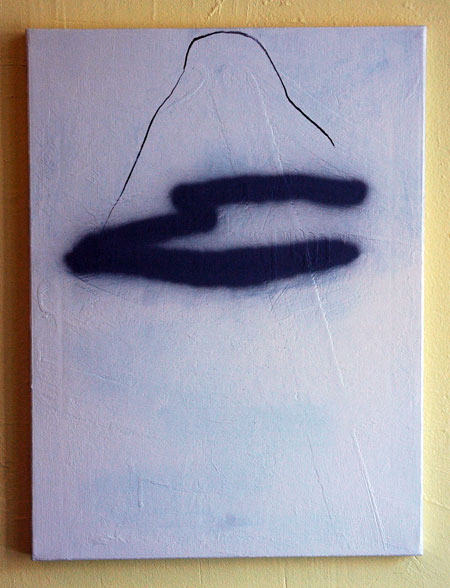 Mike Smith untitled 2007 latex, ink and enamel on canvas 24" x 18" [installation view]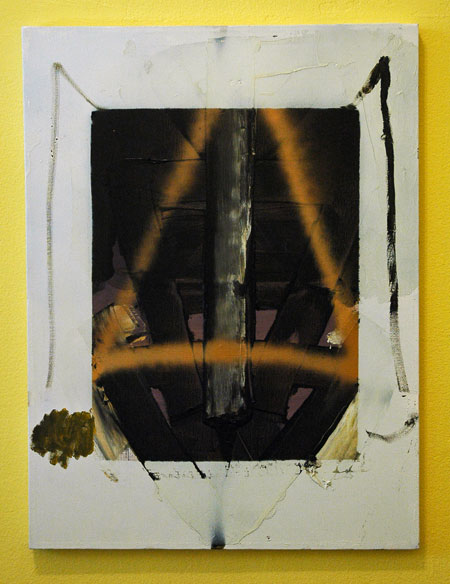 Mike Smith untitled 2007 latex, ink and enamel on canvas 20" x 16" [installation view]
I wanted to do this post over a month ago, as soon as I left "Darjeeling", the enigmatic title of only the latest informal show installed by the Daniel Reich Gallery in one of the rooms of the Chelsea Hotel. At first I guess a lot of other things got in the way, and when the exhibition with the enigmatic title, shared by the artists Mike Smith and Jeffrey Tranchell, eventually closed writing about it seemed less, what, useful? Well, I haven't been able to forget it. I continually see that room and its quirky installation in my head, regretting not sharing it here and half promising myself to do a belated entry.
So this is it, but for my tardiness I now feel I can't leave without going into a bit of history:
Barry and I have been fans of the wonderfully unconventional Daniel Reich and his aesthetic choices from the beginning of his own gallery visibility, when (well before his first foray west of 10th Avenue) he was running a space in his micro-apartment on the ground floor of a building on West 21st Street. Before that we knew him as an assistant in Pat Hearn's gallery and later the director. Earlier still we had met him when he was one of a number of young earnests attracted to the eccentric court sheltered by Bill Bartman's Art Resources Transfer [A.R.T.] gallery, publishing and bookstore space on West 22nd Street.
I'd like to imagine that it's partly because of Daniel's own career narrative that these two artists were given the opportunity of mounting this interesting small show.
We like his own shows and we like the Chelsea Hotel, our neighbor. I've always regretted that this magnificent building with a legendary, even mythical past, wasn't the full-time venue for more galleries, but then it is fundamentally a residential pile, and I was always pretty fond of the commercial occupancies which did manage to get leases there, like a tackle shop, a guitar store, a tattoo parlor, a tiny tailor shop, an acupuncture salon. The hotel is under new management today, and even these interesting tenants are now going or already gone from the scene, probably to be replaced with one or more national chains to which none of its present residents or neighbors will ever be able to warm up.
I hope this isn't one of the Chelsea Hotel's last adventurous visual arts events, but it and Daniel Reich are certain to remain part of the legend.