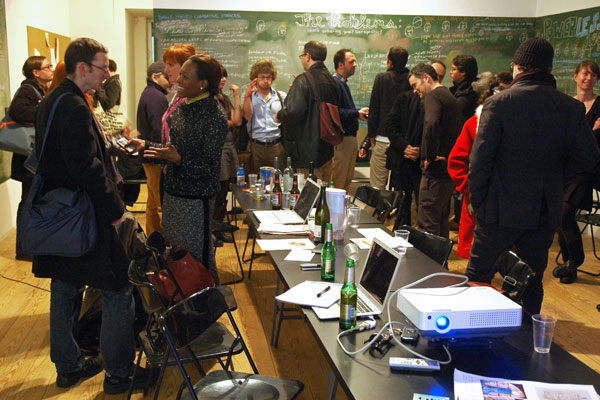 hanging out after class
Thanks to everyone for following the #class collecting panel last night, both those inside the space and elsewhere online (there were over 1700 people watching the live stream at one point). We had a great time!
Thanks above all to Julia Weist, our facilitator, and the rest of our lovely and distinguished panel, whose names many may not have gotten when they were introduced.
Greg Allen
Denise Kupferschmidt
Adam Simon
Kianga Ellis
Austin Thomas
Ben Tischer
Jonah Groeneboer
And many thanks also to Ed Winkleman and Murat Orozobekov, our hosts, and to Jen Dalton and William Powhida, the overtaxed artists who dreamed up and continually enable #class for us all, for their own own vocal contributions to the conversation last night.
Barry and I were pretty pleased with how it went off, although we were surprised that most of the discussion stayed with practical issues, and, in spite of our pretty modest efforts during the evening to provoke it, there may have been little that would satisfy the larger project's intention that participants would meet "to examine the way art is made and seen in our culture and to identify and propose alternatives and/or reforms to the current market system."
We wanted to keep a light hand on the wheel, and more or less let the room run with the discussion, but we had hoped it would move onto a more theoretical level. We tried to nudge it in that direction, including posing the question of whether there was another way than the collecting model to serve both artists and the larger culture. In the end however, the "class" system survived the evening pretty much intact.
All of which makes me anticipate even more keenly the #class event which will discuss Ben Davis' "9.5 Theses on Art and Class", on a date not yet established.

art hell [section of chalkboard-painted wall in the gallery]