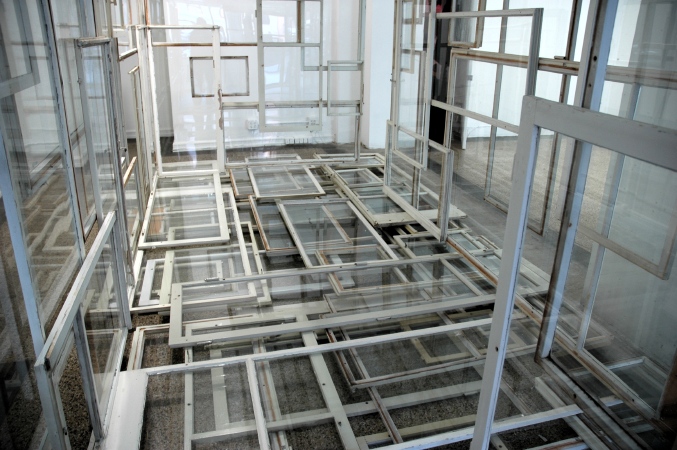 I've displayed a severely limited color spectrum on this site lately, and I'm sorry that this shot isn't much of a stretch from those black and white images sitting just below it.
But I think that it does manage to represent a decent view of a very satisfyingly recondite installation at Haswellediger by the Dutch/Swiss artist Bob Gramsma.
I want it. But my appetite is obviously bigger than my stomach.
The gallery describes the complex monochromatic maze which almost totally dominates its exhibition space in this excerpt from the press release:
For Tanstaafl [the only slightly abstruse title of the show*] Gramsma will exhibit Schwamendingen, OI#0485, a multi-layered architectural structure of some two hundred glass windows and doors from an old house in Zürich in conjunction with several objects including a source of light. As with past projects, Gramsma continues to subvert the function of vehicles, passageways, ports and other "A to B" systems as a means of paralleling our present climate of disinformation and mistrust. The structure pits true and artificial light against one another like fact and fiction as the viewer maneuvers its periphery in a somewhat ironic attempt to decipher or reach its true core. The entire room continues this subtle atmosphere of conflict as rays of light,are bounced off of one another, while mediated and distorted through the glass panes of the doors and windows.
Oh yes, we were assured that the suburban villa which gave up its wonderful old windows to the artist still stands - now wearing modern replacements.
*
see the complete press release for some clarity on this appellation