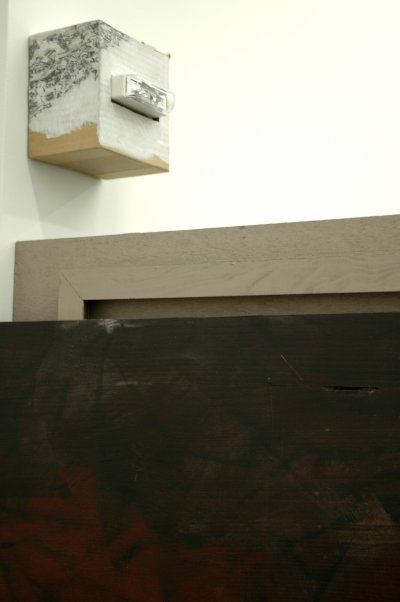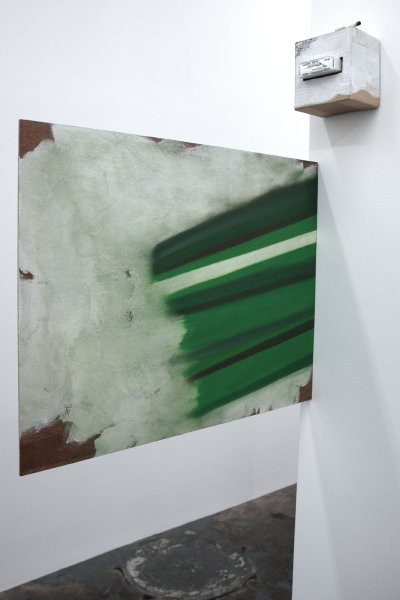 Tyler Vlahovich Cloud with Green Event 2005 oil paint on wood panel 24" x 32" [these images are two detail views of the installation, including one oblique view of "Cloud" in the lower one]
Also at Feature right now is the work of Tyler Vlahovich. Smart, painterly and sculptural, beautiful, witty, and brilliantly installed, this installation describes a small treasure of a room.
When I captured the images shown above I thought I was looking at a single work. Although the truth is that while the top picture may actually include nothing but a bracket and the support structure of "Cloud with Green Event" as seen from behind, it and my earlier misapprehension reveal some of the beauty and the genius of the entire installation by this young painter.
Both of these images include views of Vlahovich's embellishment of the space's fire alarm. The gallery describes these and other oddments the artist has included in the room as part of his deliberate disruption of the space. Yes, that really is a faux cigarette resting on the painted cardboard box which surrounds the emergency light.
For a look at some earlier work, not included in this show, go to this older gallery link.
Lest, after discussing both Lucky DeBellevue and Tyler Vlahovich, an omission be misunderstood as a comment, I have to confess that on the evening I was there I just didn't get a chance to see the work of the third artist "Feature-ed" in the gallery's rooms right now, Howard Johnson. Obviously I have to go back.