Karen Heagle Bound Man 2005 oil on panel 61" x 68" [pretty large detail]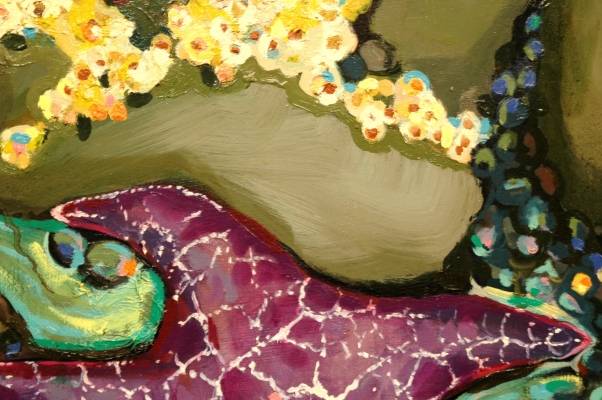 Kaen Heagle Low Tide at Rialto Beach 3 (Lone Starfish) 20o5 oil on panel 45" x 42" [detail]
Karen Heagle's show opened I-20 gallery's very impressive space on 23rd Street tonight and the beauty of both the work and the opening-night crowd represented a certain aesthetic and intellectual nobility not sufficiently represented in large Chelsea shows these days.
I've been hooked on Heagle's imagery for years, but until now I've always felt I had to work very hard to find it. Actually it was even a number of years after I first met and talked to the artist before I even discovered that she painted.
These canvases and these drawings are really extraordinary, and extraordinarily sophisticated, in spite of a style which might initially appear conservative, even primitive. Surprisingly, in spite of their simplicity, they never suggest the faux-naif. So is this the twenty-first century?
The portraits, and they are portraits (even if the sitter may be a turkey or a starfish), or at least that's where they start, are ennobled by the sensitivlty and brilliance of the more-or-less abstract "landscapes" which frame the subject.
May I be excused if I say that those are absolutely the sexiest starfish I've ever seen (not that I've really ever thought that way about echinoderms before)?
For more on Heagle, see the wonderful Ed Winkleman.