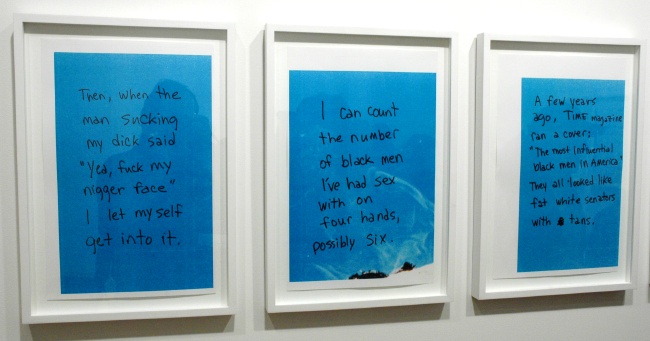 Joe Ovelman: the first three drawings from the series, "Twelve Drawings" 2007 [installation view]

Joe Ovelman Rosa Parks 381 2007 381 polaroids and ink [detail of installation]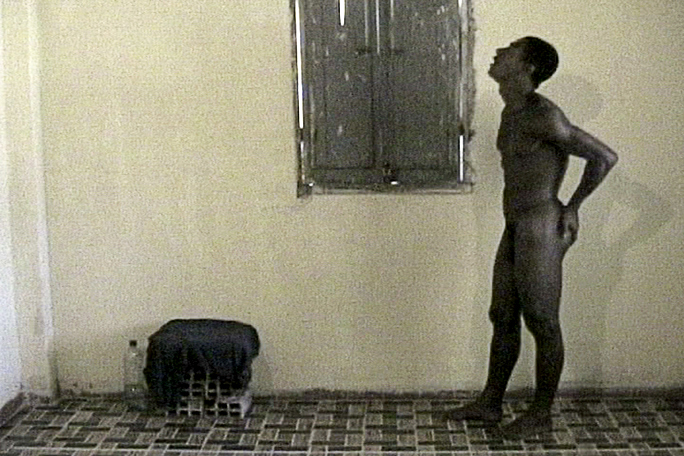 Joe Ovelman Regi 2005 video [still from video installation]
It's a tough show. Joe Ovelman gets right inside the wretched, beating heart of white racism with his passionate exhibition, titled "For Whites Only", currently at Oliver Kamm's 5BE Gallery. There are only about seven works in the gallery, but the minimalist, and oddly almost sanctuary-like installation manages to include one piece from just about every one of the media forms available to an artist today.
Missing however from this virtuoso show, perhaps significantly, is any representative of his own still photography, the medium with which Ovelman has been most closely associated until the last year or so. The 381 polaroid portraits of the artist installed on one wall were taken and signed by 381 different people who could self-identify as African-American.
The press release describes the show's one video, and the source of its ambient sound, very simply:
"Regi", 2005, is a video in which the paid subject, chosen for his African decent, stands naked and confined to one end of a room for 8 hours, the length of a typical work day. The video was shot in Porto Seguro, Brazil, a historic slave-trading port.

UPDATE: See Holland Cotter's review in the NYTimes February 3.
[third image obtained from the artist]