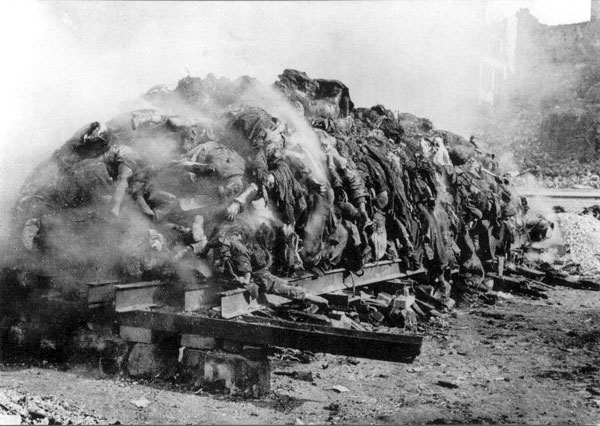 war is never what we expect it to be: Dresden, stacked bodies after 1945 Allied firebombing
We despair.
Four and a half years ago Barry and I each decided that we were retiring from both direct and indirect political action. We had just gone into the streets along with almost a million of our neighbors to protest the Bush regime's plans for an unprovoked war against a small, almost defenseless state on the other side of the planet only to see the media virtually ignore the the demonstration and our two senators go on to support the the cynical, naked aggression in spite of polls which showed the majority of the people in New York State opposed it.
I don't even sign petitions any more.
So why should I be surprised today to see that almost everyone else may have made the same decision? Americans now seem to be sitting this one out. They're still answering the pollster's questions, and in spite of the statistical bump favoring the war in its early stages, they still don't like it, even if that's as far as they're willing to go.
Some four weeks ago, upon hearing the news of the latest failure of our so-called Democratic Congress to do absolutely anything to end a war which three quarters of Americans now oppose, Barry said to me, "That's exactly why I'm now so estranged from political life". I'm there too, but I'm sickened as he is by so much more than just the war itself: There are the cold Constitutional issues of course, which no one seems interested in dealing with, but the war and its hundreds of thousands of deaths and maimings, millions of refugees, and incalculable numbers of destroyed lives is only the most spectacular part of an even broader system of terror which has been corrupting us all. This is a campaign which threatens people everywhere in the world including of course our own communities, a vicious but also incredibly stupid and dangerous crusade unleashed in our name after September 11. We have prisons and countless "interrogations" consciously designed by our elected officials and governmental institutions to exist outside of any known system of justice. "I see no sense of outrage by the people running our government", Barry continued. "They show absolutely no sense of outrage."
In fact neither of us sees much evidence of outrage anywhere within our borders, including an absence among ordinary citizens. In spite of the fact that we don't have the kind of motivation which a fully-developed police state might provide, we, that is all Americans, have become very good at being "good Germans".*
I started writing this post in mid-September but only got as far as a short mock-up. Frank Rich's passionate Op-Ed piece in Sunday's NYTimes [conveniently, the online text has direct links to his references] made me go back to my notes. Rich uses the phrase "Good Germans" in his headline without fully defining it, but he does do an excellent job of shattering any illusions of innocence we might still retain.
We do torture people. We can no longer deny it. This may be the first time you've seen Andrew Sullivan's name used on this blog (and I'd like it to be the last), but Rich links to our lazy mainstream media's designated homosexual spokesperson to illustrate the connection between the administration's "interrogation" practice and that of the Nazis.
As Andrew Sullivan, once a Bush cheerleader, observed last weekend in The Sunday Times of London, "America''s "'enhanced interrogation"' techniques have a grotesque provenance: "'Verschärfte Vernehmung', enhanced or intensified interrogation, was the exact term innovated by the Gestapo to describe what became known as the 'third degree.' It left no marks. It included hypothermia, stress positions and long-time sleep deprivation." "
We apparently do commit war crimes, and we hire mercenaries. Rich believes the tale of our well-paid hired guns is "a leading indicator of every element of the war's failure", and sometimes the worst stories can't be swept under the carpet. Three weeks after the Nisour Square massacre of 17 Iraqis, the Times columnist skillfully parses the more recent killing on Tuesday, by members of another private security firm, of the two women driving a car in Baghdad in these words:
The gunmen who mowed down the two Christian women worked for a Dubai-based company managed by Australians, registered in Singapore and enlisted as a subcontractor by an American contractor headquartered in North Carolina. This is a plot out of ""Syriana"" by way of ""Chinatown"." There will be no trial. We will never find out what happened.
We're now "laundering" our atrocities! Is anyone out there following this?
Actually, almost all of us are going about our business as if nothing is happening. We're not lying down on the tracks in front of troop transports. We're not wearing badges announcing our identification with the muslim "other". We're not beating down the doors of the NSA demanding that we be "interrogated" about our loyalty to the "Homeland". We're not running standing in front of a Marine Sergeant's M-16 as he tries to search the home of a frightened Iraqi family.
Yes, these are heroic acts, and perhaps they're completely preposterous in the twenty-first century, but I don't even see or hear us talking about resistance in any form.
The rest of the world is following this very closely. We don't look good. We're already paying for our cowardice, and the bill is not going to get any smaller. Rich's column concludes with a warning and an appeal:
Our humanity has been compromised by those who use Gestapo tactics in our war. The longer we stand idly by while they do so, the more we resemble those ""good Germans"" who professed ignorance of their own Gestapo. It''s up to us to wake up our somnambulant Congress to challenge administration policy every day. Let the war''s last supporters filibuster all night if they want to. There is nothing left to lose except whatever remains of our country''s good name.
I have to end by saying I just don't share his Frank Capra optimism. How can we as ordinary Americans expect to have any impact on government policy when we have neither democracy nor the stomach for serious revolt?
*
Borrowing the definition found in Wikipedia: The 'good Germans were the citizens of Nazi Germany who, after 1945, claimed not to have supported the regime, even if they made no effort to oppose it. Today the term has been given a broader application, one which refers to people in any country who observe reprehensible things being done by their government but nevertheless remain silent and do not challenge or impede them.
[image from erichufschmid via airamericaradio]