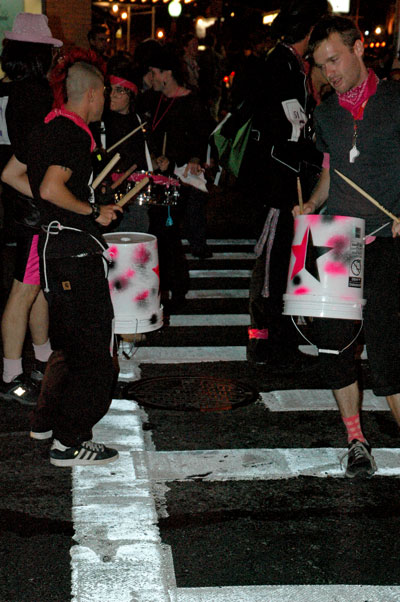 drum corps section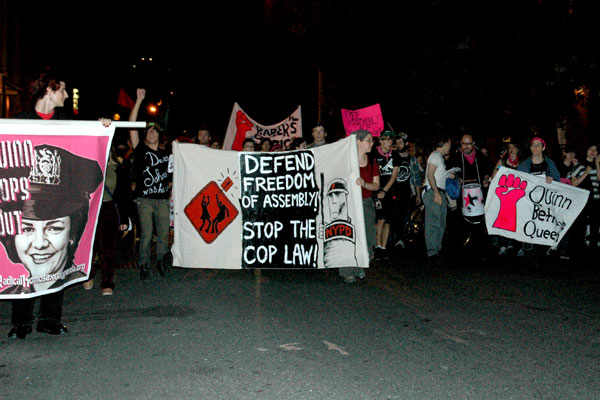 the vanguard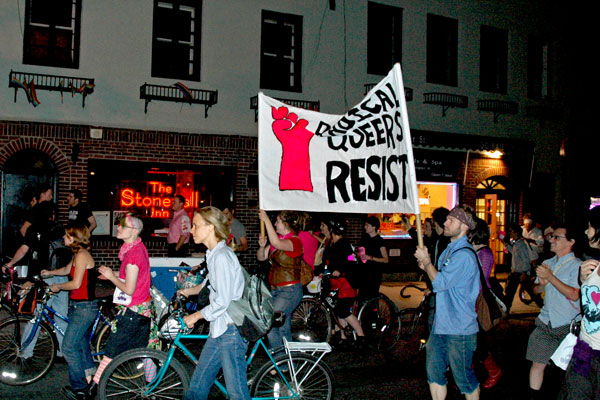 past the Stonewall site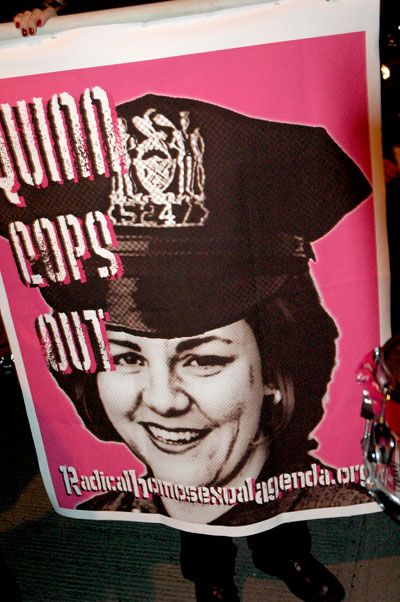 the campaign theme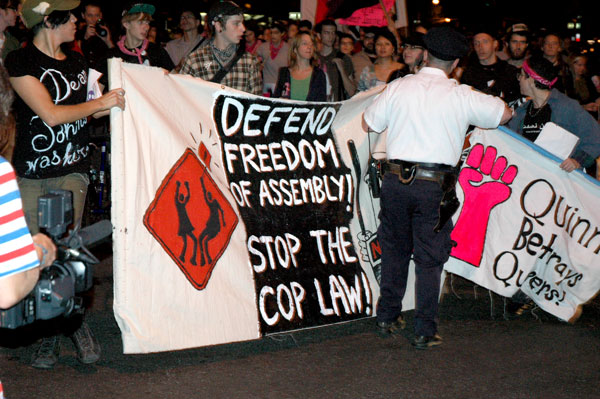 not as bad as it looks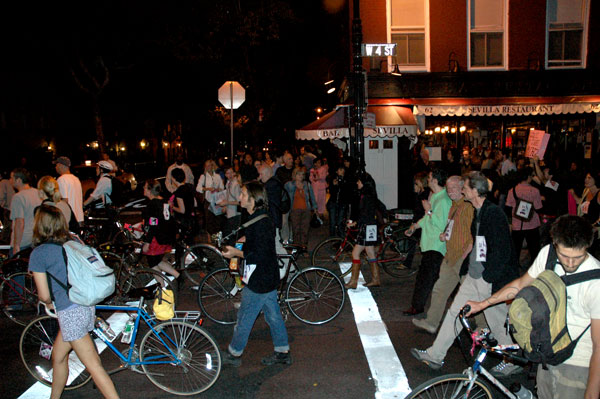 the curious gather on the sidewalks
We're saying the First Amendment isn't just for the homos.
It was a fabulous party. First, it was safe (no assaults and no arrests), but it was really fun, it was beautiful, it broadcast the issue, and on top of another event earlier this week, it looks like that issue now has real momentum.
Last night's Parade Without A Permit, put together by The Radical Homosexual Agenda [RHA] and its allies, was the second in what is likely to be a continuing series.
Progressing through streets filled with surprised and delighted diners and party goers enjoying the warm evening air of a Saturday in autumn, somewhere between 150 and 200 colorful and energetic activists broadcast the word about City Council Speaker Christine Quinn's support of new NYPD rules restricting free assembly. The group started inside Washington Square Park, accompanied by signs and outrunners with informative pink paper flyers and led by banners and a snappy percussion section. The party wound its way through the West Village, Quinn's own district, for more than two and a half hours before dispersing from Pier 45 at Christopher Street.
Surprisingly the "unpermitted" assembly, was neither broken up nor even seriously provoked by the police. In fact the few uniformed people visible last night performed the kind of martial duties which groups like ACT UP have historically assigned to themselves, halting vehicle traffic for the protest's passage across streets and then, most remarkable of all, letting it take most of the width of Eighth Avenue all the way to 15th Street. At that point the parade turned left and then left again to head back into the Village. The police disappeared at about the same time.
Did the NYPD get the word from Quinn's office to see that nothing untoward would happen to the queers and their friends, or was the Department's low-key handling of the event just part of its historical and notorious pattern of arbitrary enforcement of the law? Also, "good cop" one day, "bad cop" the next, was something we experienced throughout the years of ACT UP's biggest actions. You never knew when you were safe, and you don't today, especially if no one is watching.
One of the most striking images of the evening was presented early on, when the ragtag (I mean that in the very best sense) procession passed the site of Stonewall Inn, where the modern homosexual movement began.
The pictures above and on Flickr and on other sites show the diversity of the protesters, in age, gender, sexuality, race and mobility, one of the most satisfactory elements of a evening of empowerment.
Not only is the First Amendment, and freedom from an arbitrary police force in general, not just for homos, these rights must not be secured only for a queer elite and "decent citizens" of other descriptions. Reflecting today on what was accomplished last night, Andy Podell, a member of RHA, warns:
We have used our position as relatively-privileged queer activists to advocate for freedom of assembly and against police harrassement of queers and activists. At some point our rallying cry of last night, "We don't need a permit", becomes a little easy and self-indulgent. We don't need a permit because at this time a city councilperson doesn't want to fuck with us because we're queer and have connections and it would be bad publicity for her.

Like the well-connected SRLP [Silvia Rivera Law Project], the intervention of Quinn in getting the charges dropped against Wed's night's arrestees does not mean that the NYPD will stop harrassing trans people or people of color or queers. I'd like to see the RHA up the ante in connecting with people who get picked on by Quinn or the NYPD outside of the eye of the queer media (it might not even be queers).
It's probably just a (very minor) fantasy of my own, and it will probably stay that way, but for the next parade I'd love to see a pink and black fife player added to the excellent drum corps: For me it's the original Revolution image, but this second one might just be led by queers - of every description.
I've put more images of the evening on Flickr.