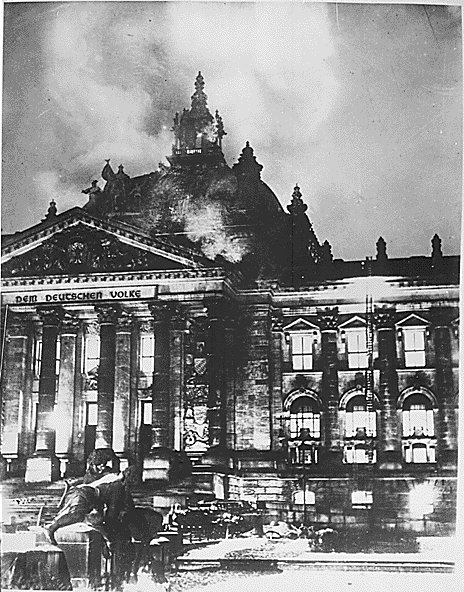 another site found to be invaluable as a ruin (the Reichstag burning, 1933)
"U.S. builds for future at Guantanamo"
GUANTANAMO BAY U.S. NAVAL BASE, Cuba (Reuters) - The U.S. military is building a mobile courtroom complex on an unused runway at the Guantanamo Bay naval base and plans to be ready by March to conduct as many as three terrorism trials at a time.
I saw this horrific headline and its story early yesterday and I'll confess that my imagination immediately ran out of control. The first thing that came into my head was an association of these traveling units with the Nazi regime's Einsatzgruppen ("task forces"), the official euphemism used for the mobile killing units which followed its armies as they advanced into Eastern Europe and the Soviet Union during World War II.
I immediately checked the historical facts however and I was reminded that the Wehrmacht's portable units did not even pretend to have a judicial element. Still, the idea of the heroic conquerors of Fascism and Communism creating mobile courtrooms to hand out extra-judicial judgments against a group of people whom we've been concentrating together for years in an inaccessible extra-territorial prison camp drives me absolutely crazy! Don't these political villains and idiots have any sense of what this looks like? Or do they even care?
Of course to be fair to myself in my original call on this Reuters story, it's not as if we haven't been guilty of extra-judicial killing ourselves throughout the entire course of our war in Iraq, and much of it stinks of racism. I don't even have to talk about the crimes committed by frightened young soldiers introduced into an alien land without appropriate numbers or equipment and without a proper mission.
Sometimes we actually boast about our official bloodletting. This is from a July 29, 2003 post on Jurist:
Last week the US military assassinated Uday and Qusai Hussein in a villa in Mosul, Iraq. Hundreds of troops armed with automatic weapons, rockets, rocket-propelled grenades, and tow missiles, and dozens of vehicles and aircraft, attacked four people armed with AK-47 automatic rifles. Mustapha, the 14-year old son of Qusai, was also killed in the operation, along with another individual who was apparently a bodyguard.

. . . .

The assassinations prompted chest-thumping and back-slapping all around. Even Senator Ted Kennedy joined British Prime Minister Tony Blair, The New York Times and the Washington Post, in congratulating Bush on the good news.
Except for the distinct difference between their initial senses of judicial urgency, a more appropriate reference for the quickie tribunals we are finally planning to set up in Guantanamo after all this time would be a court we ourselves destroyed sixty years ago: The Nazi Volksgerichtshof ("People's Court") was also set up outside the operations of any constitutional frame of law and the record of its hideous procedures illustrates some of the same perversions of justice. The excuse for the establishment of this Nazi political court was what the government insisted was the danger its sworn enemies posed to the health and security of the population. The Reichstag fire, the destruction of a very visible national symbol, was described as an act of terror, and its partisans were supposedly everywhere.
The "People's Court" dispensed with ordinary juristic procedures and its indictments, its verdicts and its sentences were all determined by political dictate. Our own wheeled Cuban courtrooms will represent an ad hoc legal system that follows neither civilian nor military law, and it is outside the international laws of war established under any number of valid treaties, some in effect for well over a century. We know what it does follow, and that image should frighten us as much as it does its designated targets.
No, I'm not claiming that the contemporary U.S. is Nazi Germany, but at the current rate at which we are giving up our rights and our principles, I have to wonder what it is that we are we going to hold onto in order to be able to distinguish our system from the evil we once recognized in another?



[image from wikimedia]