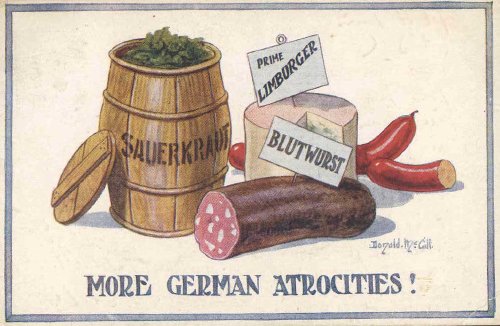 In a NYTimes review of the restaurant Loreley published just over a year ago Julia Moskin wrote, "German food can be a hard sell. It is deeply unfashionable . . . . " I copied the quote down. Today I'm not entirely sure why, but it ended up in the pages of one of my German cookbooks where I found it a few days ago.
I didn't start off this week intending to prepare German dinners exclusively every night, but it's been working out that way ever since we made a return visit last Saturday to one of our favorite hometown restaurants, Kurt Gutenbrunner's Austrian restaurant, Wallsé.
My original idea was just to so something from my own childhood experience of a 4th of July meal, but a simpler, low-key version, since that was how Barry and I were dealing with the day otherwise. The fact that I didn't want to heat up the kitchen and we weren't able to cook outside certainly contributed to reducing my ambitions as well. I ended up with bratwurst (unfortunately they were nothing like the legendary Sheboygan sausage) grilled on a ribbed castiron pan, real German potato salad, some fantastic pink/white radishes, a cucumber salad my mother would have been proud of and a decent loaf of pumpernickel bread. In a significant departure from my Wisconsin family's experience we decided to raid the wine rack rather than the beer we're no longer laying down in the refrigerator because we need the space. The excellent riesling is probably what persuaded me to continue the Rhineland theme the next day, the day after the next, and eventually through tonight as well.
On Tuesday I located some excellent smoked trout, which I served with a bowl of whipped cream I flavored with lemon and grated horseradish, and we continued through most of the vegetables we hadn't been able to finish the day before, with the rare addition of some spicy puntarelle not consumed in an Italian salad two days earlier. Another Rhine or Moselle from the "cellar," and then a ginger rhubarb compote for desert.
Wednesday evening we had some crisp flatbreads with two smoked eels I had collected from the Union Square farmers (fisherman's?) market that afternoon, some wild watercress and the rest of the whipped horseradish cream. For an entree I turned on the gas for the first time since Monday in order to saute a thick slice of Niman Ranch ham and to boil some new potatoes I finished in sauteed sweet onion slices and topped with fresh thyme. We had small bowls of what remained of the cucumber salad on the side, now slightly augmented and refreshed with chopped puntarelle. Another good riesling, a Pfälzer, a Deidesheim.
Tonight after returning from a number of art openings in Soho we only needed a small snack, since following an afternoon in Chelsea galleries we had enjoyed Korean sushi at what was an outrageous hour for lunch - even for us. I had managed to save a bit of the ham from last night and we had it together with some good German mustard, the last of a potato salad which was still showing the stuff it was made of and some buttered slices of the sturdy pumpernickel. A fine Nierstein Riesling Kabinet was our company.
My point is that German food does not have to be scary. It never did, but today there is even less cause for alarm because of the development of a nouvelle German cuisine which I had predicted was inevitable years ago, at a time when I could and would abandon myself to the heaviest examples of German cookery with no regrets, no complaints. Unless she has changed her opinion, wherever she may be now, I would argue with Ms. Moskin that today German cookery finally has become fashionable; it's just that most of the world doesn't know it yet.
If anyone is looking for inspiration they should take a peek at the gorgeous photographs in "Culinaria Germany." My potato salad came straight from its pages, but I fell in love with Mimi Sheraton's "The German Cookbook" four decades ago and won't let it out of my sight. I may have moved from a German kitchen into a French one and today an Italian, but my first great love was this 1965 classic. It remains unchallenged as an English-language guide to German cooking even if it can't boast a single illustration. It was Sheraton's cucumber salad we enjoyed this week.
I knew I was going to go back to Southern Italy again, at least for a while, but I bought another handfull of kirbys just yesterday at the greenmarket. Tomorrow I'm going to see if I can find anything in Italian cuisine which could possibly love a cucumber.
NOTE: I tried to locate an image from "Culinaria" or elsewhere which might do justice to my argument, but without success, so I settled for the entertainment value of a World War I British propaganda postcard which may or may not be serious in complaining about the enemy's cookery.
[image from firstworldwar.com]