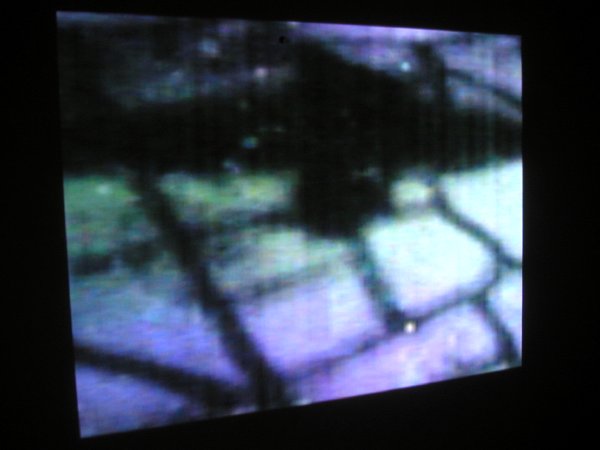 Jonathan Podwil Huey 2001 Super 8, digitally animated, continuous loop [still from projection]

Jonathan Podwil Meeting, 1983 2005 oil on linen 2 panels, each 36" x 42" [detail]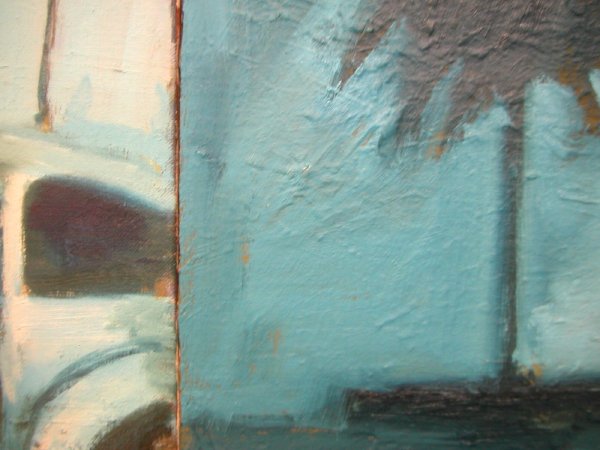 Jonathan Podwil LA Palms, Baghdad Palms 2004 oil on linen 2 panels, each 10" x 12" [detail]
Sometimes you see a single work by an artist and even if it doesn't tell you a lot about the oeuvre, it's enough to make you want to see more. When you do see more your appetite may only have begun to be wetted. If you are lucky enough you may eventually see an entire show devoted to her or his work or, even better, you may be invited into the artist's studio, where the magic starts.
I thought I knew something about the work of Jonathan Podwil after seeing it here and there across the city, or occasionally on line. I was intrigued by his paintings from the very beginning in spite of, or perhaps because of, the fact that they were representational. They weren't representional in any obviously eccentric way, but I sensed that here there was much more going on than just a surface standing in for an airplane, an automobile or a figure.
I knew that he was also known for his hand-made videos, but I had not really been able to see enough of that work to understand what it was all about, and I certainly didn't suspect that it was really closely related to the paintings.
Then we visited his studio and for the first time I saw everything come together. He does paintings and he does films, and while sometimes a particular inspiration will inhabit only one discipline, at other times what is essentially the same image is treated in both of these two related but very different mediums.
Podwil has recently begun to work with much larger canvases than he had in the past, and his strong brushwork is definitely very happy with this bolder scale and it loses none of the subtleties of the earlier work. Interestingly, I think the videos would be just as successful in larger projection as they are in the relatively miniature, exquisite scale I've seen until now.
The paintings, perhaps because they are paintings, require less information about process for an understanding of their appearance - and their success - than do the films. The oils are worked over and over before they are left to themselves. Sometimes he cannibalizes his own paintings, and this means the surface drama may have started long before the painting we're looking at was even begun.
For the moving pictures, Podwil sometimes uses found 8 mm film, sometimes images he finds on line or almost anywhere else, and sometimes footage he's filmed himself (sometimes including the use as his subjects small model planes held in his hand or suspended from above his camera). He then scans individual frames of the 8 mm or his own Super 8 film in order to create digital files. Finally he manipulates the images and assembles them into a digital video. The video artifacts are a natural product of this entire process.
I suppose many if not most people would find Podwil's choices of subject fairly idiosyncratic, yet somehow they all seem pretty natural to me. As much as I'd like to believe it's because I'm weird, I think it's because of the strength of his conception and its execution.
But for many people the appearance of this stuff may be deceptive: I was hooked early on, and my enthusiasm for these paintings, and now the films as well, has continued to grow. Some people however might still have to be encouraged to stop and smell the paint and the acetate.
I usually hate making comparisons or even suggesting similitude, but if Goya were still painting today he too would probably enjoy a visit to Podwil's studio.
Full images of the dyptichs whose details are shown above can be seen by clicking onto these thumbnails:
For a look at a few more paintings and to see four videos, go to his website.
[images in the thumbnails from Jonathan Podwil]