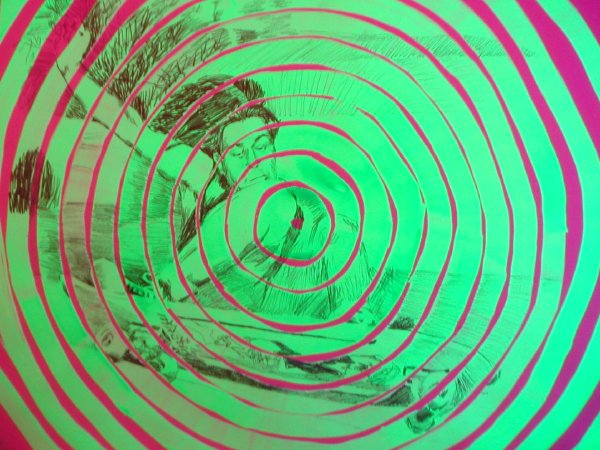 Mike Paré Ditch Dance 2005 egg tempera and graphite on paper 22" x 30" [large detail]
We celebrated Super Thursday a few days ago with a relatively low-key tour of only a few of the new shows opening in Chelsea that night. Douglas Kelly had announced some fourscore gallery receptions, and even ArtCal's less democratic listings numbered a little over thirty.
Regardless of which guide was consulted, a complete tour of the openings that night, beside the point anyway, would have been impossible within the two hour window available. Huge crowds created the additional obstacle of, yes, some real lines and waits, so we distracted ourselves with the friends we ran into, but we did manage to see a few neat things.
One of our first stops was ATM, where Mike Paré has a beautiful show, "Blissed Out", with work which straddles an [almost] no man's land located between sensitive documentary photography and traditional genre painting, sometimes dressed up in black light.
Some enlightenment on the show's title, from the gallery:
Expanding beyond the communal, counter-culture themes he explored in his Black Light Folk Festival exhibition in 2003, Paré now focuses his attention on moments of individual spiritual inwardness that made up, and continue to make up, the building blocks of "the movement."